Archbishop's Letter: 'Live generously in a Year of Faith'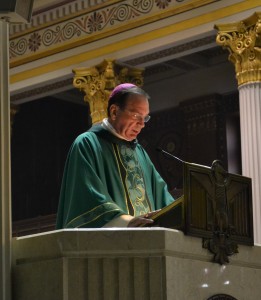 Dear partners in the mission and ministry of Jesus Christ in the Archdiocese of Cincinnati,
I write to you at this time to urge your generous participation in the 2013 Catholic Ministries Appeal in all our parishes. This year's theme, prompted by our Holy Father's call to renew and share our commitment to our Catholic faith, is Living Generously in a Year of Faith.
Pledging to support the Catholic Ministries Appeal has always been one of the key ways in which we live our faith generously. Funds raised by the Catholic Ministries Appeal enable us to carry out urgently-needed ministries that benefit thousands of people throughout our region.
Thank you for your generosity in the past!  And if you have never responded to the Catholic Ministries Appeal before, please join me and your fellow parishioners in doing so in this Year of Faith. Here are some important highlights of this year's Appeal:
This year's goal of $5 million will allow us to expand support for much of God's work that we do together as the whole Catholic Church and to undertake new initiatives in evangelization and catechesis, designed to share and strengthen faith among young people, families, and those who have drifted away from the practice of our faith.
This year, parishes that exceed their individual CMA goals will receive 50% of all over-goal funds to apply to a chosen parish ministry or activity. This reinforces the connection between the local parish and the Church throughout the archdiocese in carrying out the work of discipleship to which we are called.
I am asking all Catholics to participate in  the Catholic Ministries Appeal. You can join the CMA Partners by a pledge of 1% of your annual income. Your contributions can be made much more easily over a ten-month period.  And this year we are introducing CMA Partner Circles for those who are able to make a leadership pledge over ten months totaling $1,000 (Circle of Faith), $5,000 (Circle of Hope) and $10,000 (Circle of Charity).
Bishop Binzer and I thank you for giving the 2013 Catholic Ministries Appeal your prayerful consideration. Those who benefit from our shared ministries are counting on your generosity. In a larger way, so is the world, which looks to us to feed, teach, and heal its hunger for God. In his apostolic letter announcing this Year of Faith, Pope Benedict XVI reminds us that:
"What the world is in particular need of today is the credible witness of people enlightened in mind and heart by the word of the Lord, and capable of opening the hearts and minds of many to the desire for God and for true life, life without end."
With the expanded initiatives and renewed commitment to our ministries, the 2013 CMA will enable those of us  of the Archdiocese of Cincinnati  to truly become "a people enlightened in mind and heart … capable of opening the hearts and minds of many…"
May God strengthen and guide us all as we share in His work through the Catholic Ministries Appeal during this holy season of Lent and always.
Sincerely yours in Christ,
Most Rev. Dennis M. Schnurr
Archbishop of Cincinnati