Sede vacante in the digital age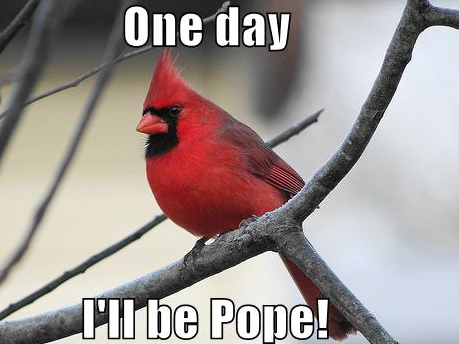 By John Stegeman The Catholic Telegraph 
Since the papacy of Pope Benedict XVI ended not in death, but abdication, the usual grieving and somber attitude of this particular period of sede vacante has been somewhat abated. Add to that a Catholic community more connected than ever through social media and what you get is a new experience.
Various groups have started websites and social media campaigns to encourage prayer for the church, the conclave and the College of Cardinals, while others are finding new ways to engage a younger, online-oriented segment of the faithful.
Below is a look at some of the more unique online experiences related to this period of sede vacante.
Fantasy Conclave
By now everyone should be familiar with the concept of fantasy sports. In baseball, for example, you choose individual players and their real life stats add up to give you a fantasy score. The websites eCatholic, Flocknote and CatholicStudentMinistry.com have teamed up to create Fantasy Conclave.
In this experience, you select a member of the College of Cardinals you believe will be elected pope, choose what day of the conclave he will be elected, and guess the name he will choose. Whoever is correct will win a prize pool valued at more than $300.
"Pope Benedict XVI's resignation presents the church with a unique situation to teach the world about the beauty of the papacy and the process of election," FantasyConclave.com reads. "To do our part, when you join the Fanstasy Conclave League, in addition to a shot at the awesome prize pool, you'll also receive daily "Pope Facts" in your email up until the election of our new pope."
Pledge to Pray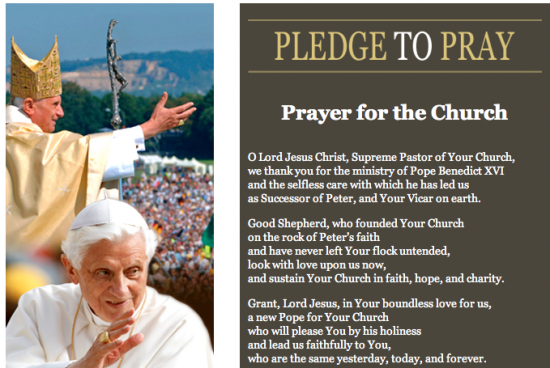 An initiative of the Knights of Columbus, PrayerfortheChurch.com is a site where you can register to pray for the church, in thanksgiving for the papacy of Pope Benedict XVI and for a new pope.
The names of all those who pledge to pray will be taken to the installation Mass of the new pope. The Knights of Columbus also promoted the pledge via Twitter.
Adopt a Cardinal

Adopt a Cardinal exists to get thousands of people praying for each cardinal in the days before and during the conclave. When you sign up, you are assigned a cardinal and provided with information about the man to better allow you to pray for them.
Adopt a Cardinal's popularity outpaced it's server capacity, however, and as of 1 p.m. March 1 displayed a message stating, "Due to heavy server load no new adoptions can currently be made! We are working on a solution!"
Sweet Sistine Bracket Challenge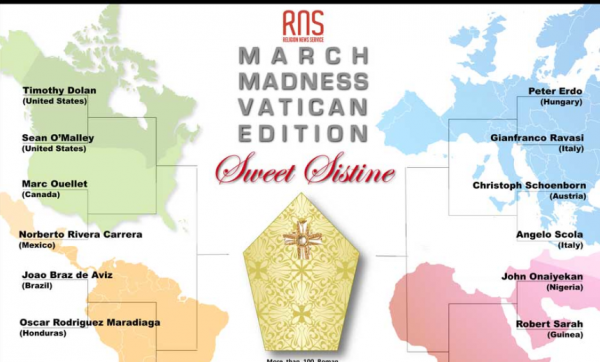 The secular Religion News Service (RNS), an organization dedicated to reporting on world religions, has created a bracketed "Sweet Sistine" challenge with 16 cardinals (four per region as selected by the site) available to pick. You can vote for who will win each round.
While RNS is a secular group, the site creates an opportunity for people to learn more about the cardinals mentioned by researching which of them is a more likely papal candidate.
New Advent's Papal Buzz Meter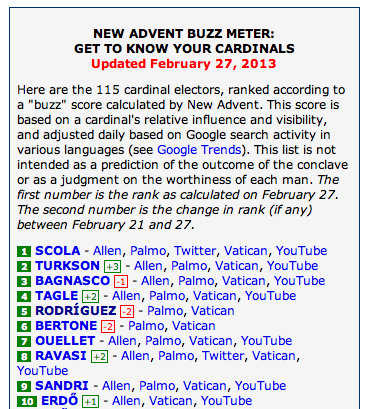 New Advent, best known as the online Catholic Encyclopedia, has created a "buzz meter" on the 115 cardinal-electors. The meter is displayed on the right-hand side of their homepage. The score is based on each cardinal's relative influence and visibility and is adjusted daily based on Google search activity. The tool can be used to see which cardinals are generating the most buzz as it pertains to internet searches and media attention.
The site explains that the meter is not intended as a prediction for who will emerge from the conclave as pope, or a judgement of the cardinal's worth. Rather, it appears to serve more as just a cardinal-oriented trend spotter. The name of each man links to their Wikipedia article.
Italian cardinal Angelo Scola was the top ranked cardinal on their buzz meter Friday afternoon.
Catholic Memes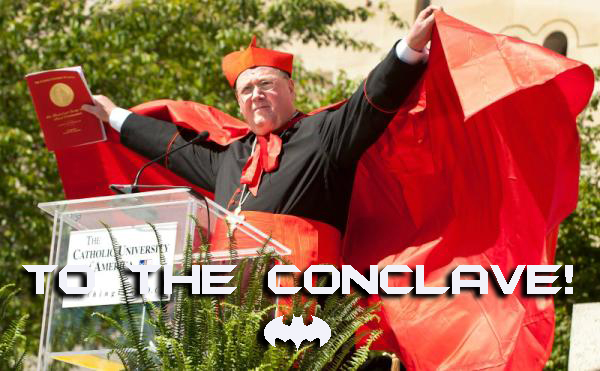 If you aren't familiar yet, a meme is a "a cultural item that is transmitted by repetition in a manner analogous to the biological transmission of genes" (Dictionary.com). On the internet, a meme generally means a funny photo someone wrote some funny text on that gets shared with a lot of people.
Catholicmemes.com is a site that specializes in this. While sometimes irreverent, many of the photos on the site can be an amusing tool for spreading the faith.
Is there a pope? Last but not least, a website called "Is there a pope?" has the answer ready for you in the simplest terms. To find out if there is a pope, click here.
Have you come across another example of online engagement related to the sede vacante? Let us know!