Archdiocesan archives building nears completion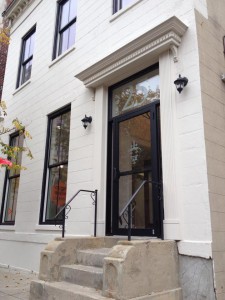 By Steve Trosley
The Catholic Telegraph
The Archdiocese of Cincinnati has posted a job opening for an archivist as preparations are underway to move the records and museum-quality artifacts to their new home at 25 East 8th Street, adjacent to St. Louis Church.
The former home to the archdiocese's broadcast studios, the building has been extensively remodeled and updated, according to interim archivist Richard Hamilton, an independent contractor who guided the transition and inventory of the materials.
The facility has been designed with an eye on the contents, Hamilton said. While the facility will be near capacity the day it opens, Hamilton said, "You can't acquire forever and not purge."
While access policies have not been fully developed, Hamilton speculated that the archives would be of primary interest to scholars, "Catholic or not." He said the question of allowing access to those who wish to do genealogy research has not yet been discussed.
"Genealogical research is time-consuming and expensive," Hamilton said, adding however that it could become a revenue source for the archdiocese.
A spokesperson for renovation contractor Danis Construction and Chameleon Architecture said the Chancery Archive storage area is being built to meet the preservation of historical documents and artwork standards, including best practices set by resources such as the Library of Congress:
• HVAC system designed to hold tight temperature and humidity tolerances that have been established as best methods for preserving historical documents;
• Building envelope improvements, including improved insulation and tight vapor barriers that supplement the HVAC design and tremendously increase energy efficiency;
• Safe, clean agent, gaseous FM200 fire suppression system, which is safe for people, does not leave a residue, electronically non-conducive and non corrosive, and eliminates water damage.
• LED lighting specifically designed for minimized UV exposure and optimal preservation conditions.
A number of other efforts restored architectural features of the building while ensuring that it was structurally refitted to deal with the weight and scope of the materials that would be stored there.
Danis spokesperson Natalie Skilliter said the 164-year old building has a rich history. Built as a private residence, it was purchased by the notable Literary Club of Cincinnati in 1895. Club members included such prominent Cincinnati residents as Rutherford B. Hayes and William Howard Taft. The Archdiocese bought the building in 1963 and eventually used it as a TV studio.
Among the materials that will be stored in the building are:
• Sacramental records of the Archdiocese of Cincinnati (which at times included most of the Midwest – formerly the Northwest Territories);
• Treasure troves of artwork, drawings, and historical photography;
• Ornate chalices and chairs;
• Historical books and liturgical documents;
• Issues of The Catholic Telegraph, the oldest continuously published Catholic newspaper in the United States, from its first issue in 1831 to the present day;
• Relics and belongings of past popes and bishops;
• Garments from Bishop Fenwick, Cincinnati's first bishop (1822-1833);
• Centuries of journals and writings from priests, bishops, and pastors;
• Original blueprints, drawings, and sketches of nearly all of Cincinnati's churches and Catholic schools including some no longer in existence.
More announcements will be forthcoming as policies are developed and after the new archivist is hired.
This article originally appeared in the December 2014 print edition of The Catholic Telegraph.