Archdiocesan group learning more about Nepal through mission trip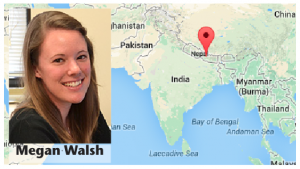 A small group from the Archdiocese of Cincinnati, including The Catholic Telegraph's Megan Walsh, are in Nepal in for an interfaith mission trip to build relationships with the Maryknoll and Jesuit missionaries, and to visit the refugee camp in Jhapa.
Below is a report from Megan, sent via Facebook directly from Bouddha, Nepal.
By Megan Walsh
For The Catholic Telegraph 
In the beautiful country of the Himalayan mountains, a group of 11 associated with the Archdiocese of Cincinnati one way or another has been visiting projects run by Jesuit and Maryknoll missionaries of Nepal. The Society of Jesus was welcomed into Nepal in 1951 to begin a school and it has not lessened their commitment to education since. The Maryknoll Missionaries, specifically Father Joe Thaler of Covington, Ky., has had an inspiring and life changing impact on thousands of Nepalese. In a predominantly Buddhist and Hindu country, Catholics are leading great social change while respecting the religious beliefs of Nepal.

Hoping to bring that respect for other religions back home, the group has also spent time learning about the Buddhist and Hindu faiths. The communication and dialogue has been rewarding and something that more people need to pick up on.
As a 23-year-old recent college graduate, I am absorbing all that Nepal has had to offer thus far. The poverty and hardship is blatant and heart wrenching. The natural beauty is breathtaking. The people leading these programs and organizations have enduring hope amidst great challenges. I expected to learn much from this experience but I was not expecting to inspire those who I have been visiting. Everyone has been thankful for our presence because it means so much to them that a group of Americans care about their life's work. I am the one who should be grateful because this experience is helping me broaden my perspective on life, appreciate the infinite blessings I have received and prepare for a career in Catholic media.
Check back with The Catholic Telegraph soon to hear more about the mission trip to Nepal and how you can help.