The Light is ON For You a 'grace-filled' success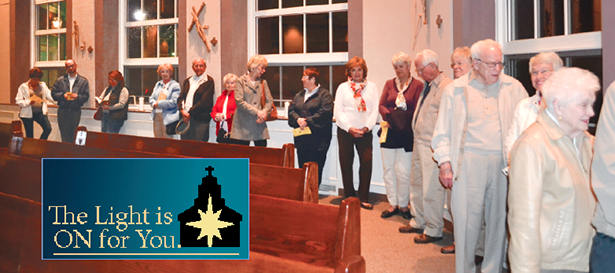 By John Stegeman
The Catholic Telegraph 
While 213 parishes were open for confession Tuesday, March 18, an exact count of penitents taking advantage of The Light is ON For You was not available. Still, many parishes reported long lines and many priests reported hearing from penitents who hadn't been to the sacrament in many years.
The one-night confession availability, marketed as The Light is ON For You, has been done in other dioceses in the past, but it was Archbishop Dennis M. Schnurr who had the idea to bring it to the Archdiocese of Cincinnati.
The archbishop heard confession at the Cathedral of St. Peter in Chains.
"I'm very satisfied," Archbishop Schnurr said. "I experienced it as an amazing and grace-fillled event. There were many who accepted the invitation to receive the sacrament who had not done so for decades."
The archbishop added that many penitents expressed gratitude for the event.
Archdiocesan Director of Vocations Father Kyle Schnippel heard confession at Holy Cross-Immaculata in Mount Adams and reported that he heard more confessions March 18 than he had in two months prior at the parish.
"One of my favorite responses to the sacrament is at the end of the prayer of absolution," Father Schnippel said. "One penitent, as the prayer finished, just sat for a few moments, slowly inhaled, then let it all out. As a priest, I could tell that this person had just laid the confessed sins at the foot of the cross and truly experienced the freedom and forgiveness of Christ. Made it all worth it."
Father Donald Siciliano, pastor of St. Bernard of Clairvoux in Taylor Creek started hearing confessions early at 6:30 p.m. and continued without pause until 10:30 p.m., more than an hour past the advertised ending time.
"Both the young and the old came," Father Siciliano said. "Those who come to confession frequently as well as those who have been away for many years — all of them hungry to receive the mercy of God. It was truly a blessed evening for priest and penitent."
Precious Blood Father Stephen Dos Santos said that he, and the four priests he lives with, were busy throughout the two hours at four different churches.
"It is always a grace to share God's grace with his people," he said. "Even more so when people have been away from the Sacrament for a long time.  I had several folks who had been away from the sacrament and were there because of the special invitation."
Father Thomas King, pastor at Guardian Angels on Beechmont Avenue, said he and the two other priests hearing confession his location all heard confessions past 9 p.m. He estimated 100 penitents showed up.
"I think it had its effect," Father King said. "It was to call people back to church and it certainly touched some people's lives and hearts. Hopefully through the sacrament that also happened as they experienced the Lord's love, forgiveness and mercy and renewed their relationship with the church and with God."
In a letter to Archbishop Schnurr, Father Michael Leshney described himself as a "happy pastor" when his small parish of St. Peter in New Richmond had a large enough turnout to keep him busy for the full two hours.
Father Jamie Weber, also writing to Archbishop Schnurr, said more than 180 penitents showed up for confession at St. Cecilia. Even with four confessors available, he described the turnout as overwhelming. Despite being exhausted, he wrote that it was "a great experience."
The Light is ON For You event was advertised throughout the 19-county Archdiocese of Cincinnati via billboards and radio advertisements as well as with a two-page spread in the March print edition of The Catholic Telegraph. Jointly promoted and operated by the archdiocesan Offices of Stewardship, New Evangelization and Worship, The Light is On for You was paid for by donations to the 2013 Catholic Ministries Appeal.