Archdiocesan leaders advocate for immigration reform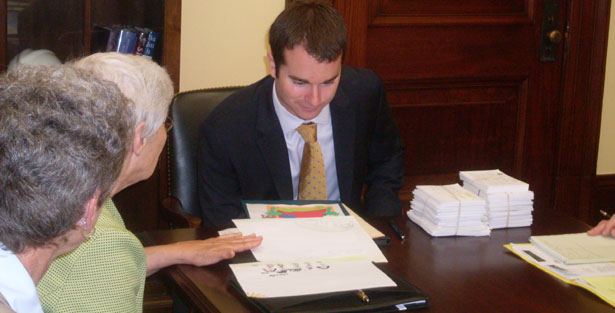 By Megan Walsh The Catholic Telegraph 
Support for immigration reform has been increasing in the Archdiocese of Cincinnati. Cincinnati City Council unanimously declared Cincinnati a "immigrant friendly" city this past March.
Last week, representatives from the Archdiocese of Cincinnati attended an Advocacy Day on May 21 sponsored by the US Conference of Catholic Bishops Migration and Refugee Services. 
The visit was organized by the Justice for Immigrants Campaign, a part of the Catholic Social Action Office here in the archdiocese. Representatives included Justice for Immigrants Coordinator Dave Scharfenberger, Father Mike Pucke, pastor of St. Julie Billiart Parish in Hamilton, Sister of Notre Dame Maria Stacey, Hispanic Ministries in Dayton, Sister of Charity Sally Duffy, executive director of SC Ministry Foundation, and two representatives of Su Casa.
The goal of the Advocacy Day was for representatives from diocese all over the nation to meet and speak with their senators and congressmen about reforming outdated immigration legislation and especially the passage of Senate Bill 744.
The success of this day resulted in at least 230 people from 39 states holding over 150 meetings with their elected representatives.
To enrich the cause, the USCCB has been supporting a national advocating campaign in the form of postcards from members of the church to elected representatives in Washing D.C. The archdiocese picked up on this campaign and Justice for Immigrants has been distributing postcards to parishes since late April.
In the last month and especially three weeks, Justice for Immigrants has received 2500 postcards advocating for comprehensive immigration reform. Our archdiocesan leaders brought these 2500 postcards to their meeting with Senator Rob Portman and his legislative aide dealing with immigration, Tyler Branch.
Along with the 2500 postcards, Justice for Immigrants Coordinator Dave Scharfenberger delivered a letter from Archbishop Dennis M. Schnurr to Senator Portman contributing to the advocation for legislation reform.
"The post cards were really a great opportunity to give a voice to people from the archdiocese to advocate for immigration reform from a Catholic perspective," Scharfenberger said.
The postcards addressed five issues that the USCCB believes should be emphasized in the senate legislation. From preserving family unity to providing pathways for undocumented persons in the country to become citizens, the USCCB focused on advocating for the human rights all people deserve.
They also met with an aide from Rep. Michael Turner's office and they dropped off postcards at Senator Brown's office as well as Congressmen Chabot, Wenstup, and Boehner.
The postcard campaign is continuing and does not necessarily have an end date. Postcards can be found at parishes throughout the archdiocese.