La Salle works to cope after tragedy; School inundated with support [Gallery]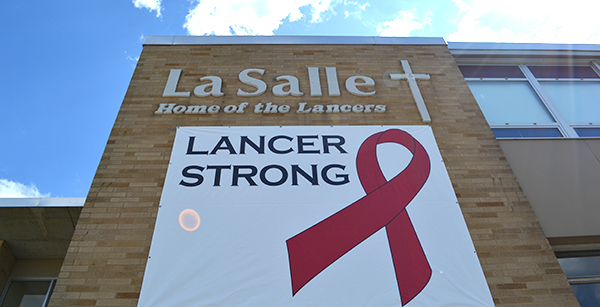 By John Stegeman
The Catholic Telegraph 
Mankind has no choice on whether or not to face tragedy.
A human life will always include suffering. Each person, however, and each community has a choice when faced with difficult times. They can let the tragedy define them, or they can let their response to it enrich their own lives and the lives of those around them.
On April 29 at 9:07 a.m., La Salle High School in Monfort Heights faced that choice when a student took out a gun during class and shot himself in the head, attempting suicide in front of 22 classmates. The young man, a junior at La Salle, was moved from Universtiy Hospital in May to a rehabilitation facility and faces a challenging road ahead. The Catholic Telegraph is not naming the student. While the Lancer community suffered no physical wounds in the shooting, it faces its own long road toward healing from the trauma.
La Salle has been no stranger to sadness this year. A would-be senior died while vacationing in Europe last summer, an off-campus shooting in March led to the death of one student and the late-April incident captured the attention of the entire city.
La Salle's community has made its choice in each one of these incidents. Rather than fall apart, it has chosen to remain "Lancer Strong."
"This community comes together in good times and in huge support of each other in challenging times and that surfaced again," La Salle High School Principal Tom Luebbe said. "When we've been confronted with situations of death or serious injury, there's something very special about the La Salle community where parents, alumni, students will rally and support each other. I've seen it time and time again and its very special.
"We have been swamped with love in a good way," he added. "Honestly, on behalf of this community I can't express enough words to say thank you to everyone for their support, prayers and thoughts."
It took less than a day for the support to pour in. St. Xavier students posted a photo on Facebook of them trading in their Bomber blue for Lancer red, wearing their rival colors in support of their fellow Catholic school as it mourned. McAuley students wore red and formed the shape of a heart. Elder students pinned red to their purple baseball uniforms. Even the public Taylor High School contributed, with students forming an L.
Luebbe said the signs of solidarity haven't gone unnoticed. The hallway just inside the main entrance at La Salle is lined with banners, flowers, cards and more. There are banners from rival high schools, signs from Cub Scout troops and even a handwritten prayer book from grade school students. The effect has been profound.
Administrative Assistant Nannette Donoghue works in the main office, within view of many of the displayed items. She said even weeks after the shooting, she often sees students stop to take it in.
"I think the support from the community has been tremendous, not just from the Catholic schools but from the public schools as well, which I think says a lot about the community," she said. "I'm still amazed at how much the boys stop to look at the signs. They really stand there and read them and see what they all say. It has meant a lot to them and you can really tell that by their interest."
More than signs, and photos online, others offered their support in practical manners. Luebbe said countless schools and business offered to help in many ways, offering to sub for teachers that might need time off or by providing food as needed.
La Salle spokesman Greg Tankersley said the common bond shared by other educators is among the driving forces behind the shows of support.
"If you're in the profession of educating young men and young women, it goes beyond education," Tankersley said. "It goes into helping them deal with the challenge of teen years, the challenges of growing up in today's society. What happened at La Salle could happen anywhere. I think that's the common bond you're seeing coming from everybody. We're all on the same team when it comes to teenagers and help them through their lives to be productive adults."
Counselors from La Salle's own counseling staff and campus ministry were augmented with assistance from Hamilton County, Cincinnati Children's Hospital and McAuley among others. Students, staff and parents were offered services to help them to deal with the shock.
"This whole crew of professionals that came in and offered their help and their time and their energy is irreplaceable," Luebbe said. "They were such a complement to our own wonderful counselors that we have here to be able to add additional resources."
Luebbe said the decision to not postpone or cancel school the day after the shooting was made in the best interest of the students and staff.
"The important thing that day was for our students and our adults to be together. The highest priority that day wasn't math, science, English, social studies or whatever," Luebbe said. "I felt it was very important that the next day we get back to having the students be together. When individuals, particularly young adults and children, go through a traumatic experience, it is important for them to have as much of their normal routine in place. So that next morning we decided to run a full day of school. We did not take the day off, we did not start late, we did not end early. Rather, we did a whole day. We started back into the same classrooms where it was interrupted the day before."
Tankersley clarified that the classroom where the shooting took place has not been used.
On May 13, life at La Salle seemed to have returned to a sense of normalcy. Students milled about the campus after school laughing and joking. A large "Lancer Strong" logo banner draped on the front of the school served as the only exterior reminder that the 2012-13 school year has been anything other than routine.
"I'm not sure this is an event that you ever get over," Luebbe said. "It is a part of the existence of all of our students and all of our adults in this community. It is a part of our history now if you want to call it that. It is not something you get over, but something you more learn where you are in a new world of normalcy."