Archdiocese Catholic Social Action Office director offers first response to Laudato Si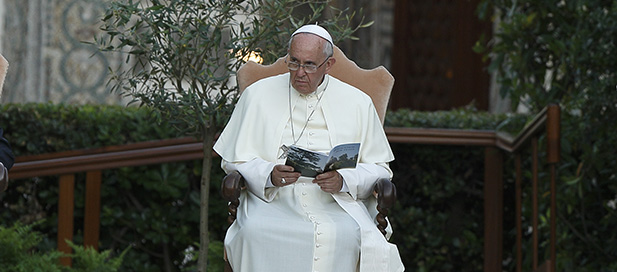 By John Stegeman
The Catholic Telegraph
Today marked the release of Pope Francis' encyclical, Laudato Si, or Praised Be to You. The encyclical deals extensively with environmental issues. While The Catholic Telegraph and many world media organizations were just getting a chance to digest the nearly 200-page document, Tony Stieritz, Director of the Catholic Social Action Office, was granted  access to an advance copy by Archbishop of Cincinnati Dennis M. Schnurr. Stieritz is the primary media contact for the archdiocese concerning the encyclical and provided the following insights and highlights from the document.
More on Laudato Si
Pope speaks as a pastor in call to protect earth, USCCB president says
CNS Overview: Pope says people silencing creation's praise
Pope Francis blasts abortion, population control in new encyclical
Glossary of terms in Laudato Si
Link to official document at Vatican website
While the encyclical is expected to make headlines around the world, Stieritz cautioned against reducing a massive papal teaching into just sound bytes.

"It is a very long,  comprehensive, and spiritually profound document," he said. "We hope people won't try to reduce it to just headlines, but hope they will take an opportunity to read it and prayerfully consider what it means for their own relationships with God, others, and the rest of creation."
Laudato Si is Pope Francis' second encyclical following 2013's Lumen Fidei, which he completed after it was begun by Pope Benedict XVI.
The Catholic Telegraph: What is the Holy Father's call to action from this encyclical? 
Tony Stieritz: The Holy Father calls for an array of action on all levels of society, from the individual to the international community.
Fundamentally, he is actually challenging us to redefine our very notion of progress, which too heavily prioritizes consumerism, maximization of profits and ever increasing production over the quality of human life and the health of the environment.  Especially for Christians, he is calling for an "ecological conversion, whereby the effects of their encounter with Jesus Christ become evident in their relationship with the world around them."  He says, "Living our vocation to be protectors of God's handiwork is essential to a life of virtue; it is not an optional or a secondary aspect of our Chrstian experience" (no. 217)
Stieritz added that Pope Francis reiterates a number of calls from previous Popes to the international community, including stronger global consensus to combat environmental concerns rather than just self-interested, unilateral actions by individual nations as well as a universal transition from fossil fuels as quickly as possible.
On the national and local level, among many other actions, the Holy Father calls for: "Maximum energy efficiency; Less use of raw materials; Improving transportation systems; Construction and repair of buildings aimed at reducing their energy consumption and levels of pollution; More recycling and better waste disposal; Protecting local species; Diversifying agriculture and rotating crops;  Development of techniques of sustainable agriculture; Increased transparency of environmental impact assessments, including a special place for participation from local communities impacted by industrial projects; and a more far-sighted politics that  courageously sees beyond short-term election gain or overly powerful economic interests.
TCT: What did Pope Francis say concerning individuals and families?
TS: Place consumer pressure on businesses so they consider their environmental footprint and patterns of production.  As Pope Benedict XVI said, "purchasing is always a moral – and not simply economic – act" (Caritas in veritate, no. 66).
We must promulgate an  environmental education that breaks the "myths" of individualism, unlimited progress, competition, consumerism, and the unregulated market and instead promotes an ecological equilibrium among ourselves, with others, with nature and other living creatures, and with God (no. 210).
Even if we have the means to spend and consume more, use less.  "There is a nobility in the duty to care for creation through little daily actions," he recognizes, such as using less plastic and paper, reducing water consumption, separating refuse, cooking only what can reasonably be consumed, using public transportation and car-pooling, planting trees, turning off unnecessary lights, etc. (no. 211).  Francis says we need to free ourselves to realize that "less is more."
He encourages families, the heart of the culture of life, to educate on the proper use of things and respect for the local ecosystem and all creatures.
He  specifically calls for seminaries to be places of "responsible simplicity," with "concern for the needs of the poor and the protection of the environment."
He  encourages us to set aside the noise and distractions of our media and digitally dominated world for sobriety, humility and gratuitousness.  For instance, he urges us to return to blessing our food before meals as a means to give thanks to God, His creation, and those who labored to bring our food to us.
We should allow the Eucharist, which joins heaven and earth, to be a source of light and motivation for being better stewards of creation and loving neighbor to the most poor and vulnerable.  We should also tie this to an embrace of the Sabbath, a day of rest to re-orientate ourselves back to the larger picture.
Lastly, the Holy Father offers two moving prayers in the encyclical, one for Christians specifically and one for all people who believe in one God, that we can all say for this  for this commitment.
TCT: Is the teaching contained in this encyclical consistent with past church teachings on the environment? 
TS: Absolutely. Pope Francis consistently refers back to the core principles of life, human dignity, and care for God's creation, based on the revelation of Scripture, as the foundation for everything he is sharing.
He also frequently refers to the environmental teachings presented in other encyclicals of broader subject matters by his predecessors, St. John Paul II and Benedict XVI.  In that sense, there is no new core teaching being presented.
What is new is his dedication of an entire encyclical strictly to this topic, which includes a sharp analysis, inclusive of well-founded science and experience, of the crossroads at which we find the human family and our Earth.
In addition, the Holy Father seems to be bolstering past pronouncements into a stronger emotional appeal to the whole human family to take our core teachings in this area to heart.  Like St. Francis of Assisi, he speaks of our common home as "sister" and "mother," and he urges us to reestablish a meaningful relationship with her.  By doing so, we are able "to become painfully aware, to dare to turn what is happening to the world into our own personal suffering and thus to discover what each of us can do about it" (no. 19).
It's important to recognize what the Holy Father is trying to do.
In his own words, "I would state once more that the Church does not presume to settle scientific questions or to replace politics.  But I am concerned to encourage an honest and open debate so that particular interests or ideologies will not prejudice the common good"  (no. 188).  The Church has a moral obligation to guide us in the protection of all human life, dignity and care for God's creation.  It uses the best science and its wealth of experience as the world's furthest reaching institution to assess the state of affairs and urge us to action.
TCT: Prior to its publication, critics of the pope harbored concerns this would include radical environmentalism that ignored the human element. Does this encyclical keep the dignity of the human person front and center, and if so, how?
TS: The dignity of the human person is paramount in this encyclical.  In fact, the Holy Father specifically denounces an environmentalism that fails to understand the proper role of the human person in creation.
For instance, he finds it inconsistent to try to protect the naturally created world around us but not the naturally created human embryo in the womb, which has the fullness of dignity as anyone else.
Pope Francis eloquently describes that, to be human means having right relationships with God, with each other, and with the rest of creation, which has an integrity all its own and joins humanity in giving praise to God.  All three of these relationships are the foundation for an "integral ecology" for humanity.
He forcefully states that the rupture of our proper understanding of humanity's relationship with the natural environment which leads to its misuse, as with our relationship with others and with God, is indeed sin.  As stated in Genesis, humans are commanded to "till" and "keep" the natural world of which we are only one part.  Creation is there to sustain the life and dignity of every human person ("till"), but the natural world does not have its ultimate purpose in us.  Every aspect of the created world is traveling with us towards our common destiny with the Creator ("keep").
As the Holy Father says, "Human beings, endowed with intelligence and love, and drawn by the fullness of Christ, are called to lead all creatures back to the Creator" (no. 83).  Thus, whenever we misuse any aspect of creation, not only do we attack the dignity of God's creation itself, but we attack what it even means to be human.
Lastly, Pope Francis notes that one of humanity's defining aspects is its capacity, with God's help, to acknowledge our dissatisfaction with social pressures that do not truly fulfill us and to embark on new paths to authentic freedom.  Humanity has the free will to choose again what is good.
Posted June 18, 2015