Archdiocese of Cincinnati to celebrate 'Pacem in Terris'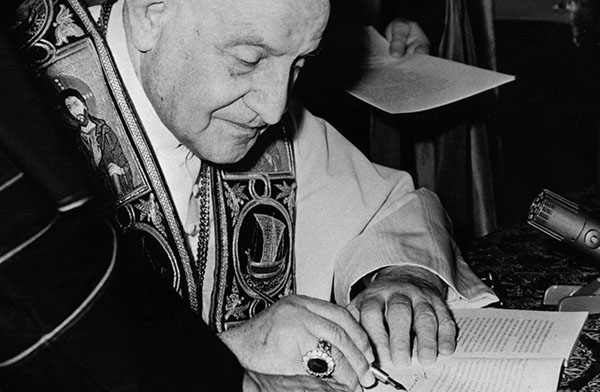 Press Release
More than 300 high school students will take part in a day-long conference and a retired official of the U.S. Conference of Catholic Bishops will give an evening lecture as the Archdiocese of Cincinnati and other Catholic organizations celebrate the 50th anniversary of Pope John XXIII's historic encyclical, Pacem in Terris (Peace on Earth.) on Thursday, April 18.
The students from around the Archdiocese will take part in "New Hope for the World: Called by Our Faith to Be Peacemakers" from 9 a.m. to 2 p.m. at Xavier University's Cintas Center. The conference will consist of prayer, presentations, workshops, and reflection, all focused on how our youth can promote the life and dignity of all, providing "new hope to the world," as proclaimed by Pope Benedict XVI in his 2012 World Day of Peace Message.
That evening, from 7 to 8:30 p.m. at the Schiff Family Conference Center at Cintas, John Carr will share the timeless vision of Peace on Earth, promoted from Pope John XXIII to Pope Benedict XVI, and encourage ongoing efforts to promote life, peace, and justice for all. He will also explore the implications of the election of Pope Francis on the Church's efforts to live out Pacem in Terris in our time.
Carr, who also will give a keynote speech during the morning, recently retired from more than 20 years as the Executive Director of the Justice, Peace and Human Development Department of the U.S. Conference of Catholic Bishops. After serving in a residential fellowship on religion and politics at Harvard University last fall, he recently joined America magazine as its Washington correspondent.
Nearly a hundred works of art by Archdiocesan high school students pertaining to themes of peace and justice will be on display for the high school and evening events.
Both events are sponsored by the Archdiocesan Offices of Catholic Social Action Office, Schools, and Evangelization and Catechesis, along with Xavier University, the College of Mount St. Joseph, and other local partners.
The Roman Catholic Archdiocese of Cincinnati is the 38th largest Catholic diocese in the country, with almost 500,000 Catholics, and has the sixth largest network of Catholic schools in terms of enrollment.  The 19-county territory includes 214 parishes and 114 Catholic primary and secondary schools.