Update: Vatican denies Spanish media report of Pope Emeritus' failing health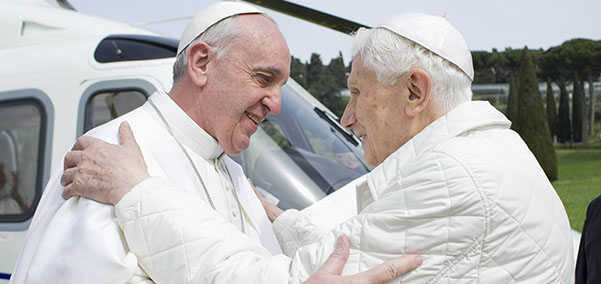 Staff Report
UPDATE: The Vatican denied Wednesday that Pope Emeritus Benedict XVI sufferers from any serious illness other than the problems associated with old age.
A Newsmax report claims that Vatican spokesman Father Federico Lombardi denied reports in a Spanish newspaper that the former pope was facing any specific illness. The report further states that his plans to return to the Vatican to move into a remodeled convent in May remain unchanged.
Original Story
Ever since he announced he would resign from the office of the Papacy, rumors have abounded concerning the health of His Holiness Benedict XVI, Pope Emeritus. 
Although several statements by the Vatican claimed Benedict XVI was retiring as a result of age and energy, not illness, reports have since surfaced that his health is deteriorating.
Gloria TV commented on a report by the Spanish newspaper El Mundo which now claims that the Pope Emeritus is suffering from something "very severe" and that "we won't have him with us for very much longer."
El Mundo is the second-largest daily newspaper in Spain.
The brief and unspecific Gloria TV report on Benedict XVI's health is so far (9:30 a.m. Wednesday, April 10) the only English language source of the news, which has not been confirmed by the Vatican. Various Catholic blog sites have picked up the story.
Then-Pope Benedict XVI announced his resignation Feb. 11 saying, "I have come to the certainty that my strengths, due to an advanced age, are no longer suited to an adequate exercise of the Petrine ministry."
Father Federico Lombardi, Vatican spokesman, told reporters at the time that the pope was not ill. A week later, the Catholic News Service reported that the pope's German-born biographer and journalist Peter Seewald said he had never seen Benedict XVI look so weak and exhausted.
Finally, a report widely circulated in the secular media showed Seewald reporting that Benedict XVI was blind in one eye and losing his hearing. The Vatican has not confirmed any of the ailments and Benedict XVI has kept a low profile since resigning the papacy on Feb. 28. His most recent public appearance was March 23 when he met with his successor Pope Francis.