Archdiocese of Cincinnati website gets modern look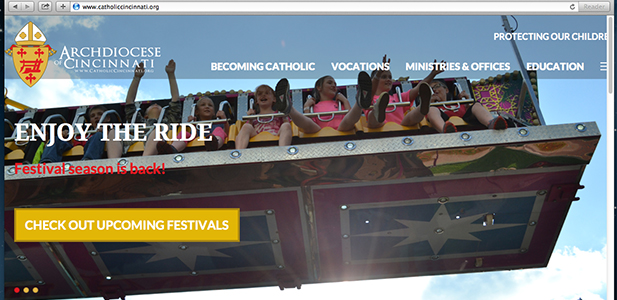 Staff Report
Catholics in the Archdiocese of Cincinnati have never struggled to find their digital home. With a name like CatholicCincinnati.org, finding the official website of the archdiocese was always intuitive and now a refresh of its design will further enhance the user experience.
The new look of CatholicCincinnati.org went live today.
CatholicCincinnati.org was last redesigned more than five years ago. In the years since web browsing habits have changed with many people using smartphones or tablets instead of desktop or laptop computers.
The new design takes that into account and is fully adaptive for any platform. It also makes more use of photography to show the rich library of Catholic images from around the Archdiocese of Cincinnati.
"The new look of CatholicCincinnati.org reflects some of the best practices in the industry," said Dan Andriacco, spokesman for the archdiocese. "The look is clean, clear and multi-media oriented to make sure the users can find what they need with ease. With this refresh of our website, we can further provide the people of the archdiocese the resources they need to live out their Catholic faith."
The refresh of the website was done in partnership with U.S. Digital Partners. In an unrelated project, U.S. Digital Partners is also working on a redesign of TheCatholicTelegraph.com.
Posted Aug. 3, 2015