Archdiocese's sixth-oldest parish turns 175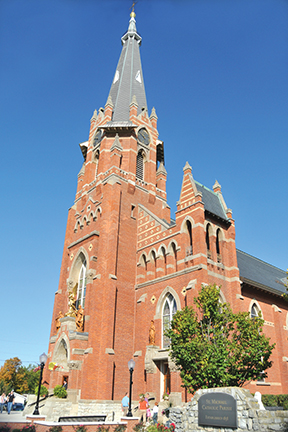 By John Stegeman
The Catholic Telegraph
Just 17 years after the then-Diocese of Cincinnati was created by Pope Pius VII, the residents of Fort Loramie finally got their own parish.
Catholic roots in the area go back as far as 1749 when a group of French explorers passed through, but it was 1838, 175 years ago, when the parish was officially established. It is the sixth-oldest parish in the archdiocese.
St. Michael Church in Ft. Loramie, part of the Newport-Fort Loramie Pastoral Region, celebrates its 175th anniversary this year. St. Michael is the older of the two parishes and its current building was completed in 1881.
Archbishop Dennis M. Schnurr celebrated Mass at St. Michael on Oct. 13 in honor of the parish's anniversary. Refreshments were available after Masses on Sept. 29, the feast of St. Michael the Archangel, and a parish dinner is also planned to continue the celebration.
One way the people of St. Michael are honoring their heritage is by incorporating it into day-to-day parish life.
"We're putting an emphasis on learning more about the church history," said Father Steve Shoup, pastor of the Newport-Ft. Loramie Pastoral Region. "The normal things we do like marriage preparation and sacramental preparation and all that will include the history of the church."
Father Shoup is the 15th pastor in St. Michael's long history. The first priest to serve the parish of St. Michael was Father Louis Navarron, who served a large region of many parishes. St. Michael's first pastor was Father Austin Berger who served from 1851 to 1857. Father Shoup has been pastor since 1999.
St. Michael has seen two church buildings, two rectories, two parish halls and two cemeteries in its 175 years. To celebrate the anniversary, the parish undertook a landscaping project that improved the look of the property.
"The parishioners really take great pride in their parish, church building and all the buildings on the property…," Father Shoup said. "They really take pride in their church. Many of the families that come to church now have roots back to the time of 1847 in the first church. People still have stories about the church at that time."
St. Michael serves a rural community that was once primarily farmers but now consists of a variety of small industries. The village of Fort Loramie has less than 1,500 residents but St. Michael serves the surrounding area as well, claiming 1,050 registered families. St. Michael features so prominently in the village's identity that it is the main photo on the town's Wikipedia page. It was the first church in Fort Loramie and 175 years later remains a staple of the community.
"The thing that most people realize is that the people who built this church really had to sacrifice," Father Shoup said. "So they're willing to sacrifice also to maintain the church their forefathers and mothers built."