Area Catholics participate in Cross the Bridge for Life
June 6, 2012
NEWPORT — Hundreds of pro-lifers from Cincinnati and Northern Kentucky came together on June 3 in a demonstration of support for the protection of human life with a peaceful walk across the "Purple People Bridge" spanning the Ohio River from Sawyer Point in Cincinnati to Newport on the Levee in Kentucky.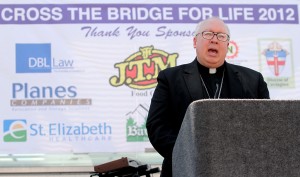 Cross the Bridge for Life 2012 began at the World Peace on the Newport, Ky., side of the river. Students, church groups, families, friends and walkers of all ages participated, including those in strollers and wheelchairs!
The collaborative event was sponsored by the Archdiocese of Cincinnati, Diocese of Covington and other area life affirming organizations. Speakers for the event included Auxiliary Bishop of Cincinnati Joseph R. Binzer.
CT/E.L. HUBBARD