Around the Archdiocese: First week of December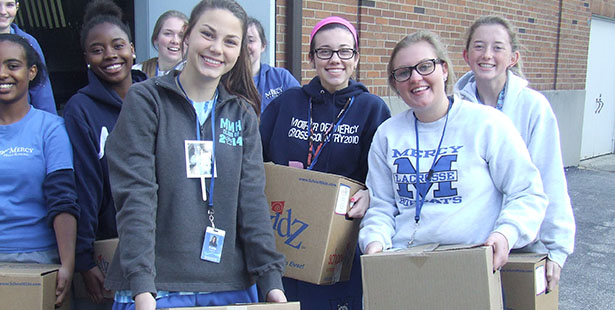 Staff Report
Below are news items from around the Archdiocese of Cincinnati.
Mercy students collect canned goods with papal flair
Mother of Mercy High School was one of many to collect food for the needy prior to thanksgiving, but the Bobcats did it with a unique approach.
Two weeks before delving thousands of canned goods to Mercy Neighborhood Ministries, the school started a social media initiative called #FlatFrancis. Any student or faculty member who donated at least 10 canned goods was given a photograph of Pope Francis, with which they could pose for photographs and tag themselves on Facebook and Twitter with the hashtag #FlatFrancis.
If students were "caught" carrying their photo, they were given an extra incentive.
The students participated in Mass on Tuesday, Nov. 25 before loading the truck to deliver the items.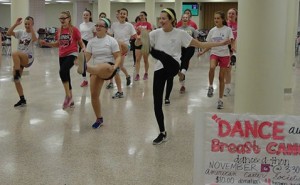 McAuley raises more than $1,500 for breast cancer research
During the month of October, McAuley High School collected donations from students and employees for the National Breast Cancer Coalition.  McAuley showed support for this organization's goal to know how to cure breast cancer by January 1, 2020.  It is fitting that an all-girls school support this cause.  The total donation was $1,167.
On Nov. 13, a special event called Dance Away Breast Cancer, complete with Zumba instructor Greg Insco, was held after school.  The money raised, a total of $363, was given to American Cancer Society, and earmarked for breast cancer research and treatment.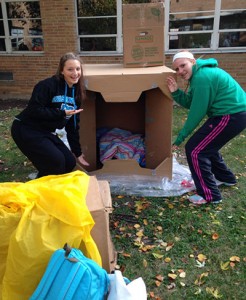 Seton hosts Shantytown
More than 50 Seton High School students participated in a Shantytown event to raise awareness of homelessness. Pictured at right are Reece Spille, class of 2018 and Allie Robbins, class of 2018, shown ready for the night.
Seton is one of 30 high schools and universities in the Cincinnati area that hosted a Shantytown experience for National Homelessness Awareness Month in November.
Eight schools from the archdiocese make Best Private High Schools in Ohio ranking
The 2014 Niche Rankings for the best private high schools in Ohio listed several Catholic schools from the Archdiocese of Cincinnati.
Summit Country Day ranked No. 13, while Chaminade Julienne ranked No. 14. St. Xavier High School ranked 15th and Ursuline Academy in Blue Ash ranked No. 17.
Still within the top 50 were Carroll High School (29th), Purcell Marian High School (38th), St. Ursula Academy (39th) and Alter High School (43rd).
According to its website, the Best Private High Schools website Niche rankings provide a comprehensive assessment of the overall experience at private high schools in all 50 states.
Around the Archdiocese is compiled from press releases and other submissions sent to The Catholic Telegraph.
Posted Dec. 2, 2014