Some see unity vision reignited by pope, patriarch's gestures in Turkey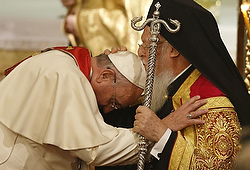 By Tom Tracy Catholic News Service 
WEST PALM BEACH, Fla. (CNS) — After watching firsthand as Pope Francis bowed his head for a blessing from Ecumenical Patriarch Bartholomew during the pope's Nov. 28-30 trip to Turkey, an American-born Orthodox priest felt a joyful disbelief.
"I couldn't sleep that night," said Orthodox Father Emmanuel Lemelson, an American priest of the Ecumenical Patriarchate who was part of the official Orthodox delegation during the papal visit to Turkey.
Father Lemelson, who holds a bachelor's degree in theology and religious studies from the Jesuit-run Seattle University and master's of divinity from Holy Cross Greek Orthodox School of Theology, told Catholic News Service that, as a young man, he fostered a vision that Catholics and Orthodox Christians would soon be reunited.
"Suddenly that vision has been reignited. I believe that Pope Francis is truly a great leader and has shown great humility, and that he is not afraid," Father Lemelson said, adding that he thought the ecumenical meeting in Turkey was a sign of greater things to come, of more meetings and of moving things forward in the right direction.
The Catholic and Orthodox churches split in 1054 over differences on the primacy of the papacy. The two churches have grown closer together in recent decades, but there are long-running tensions in Russia and Ukraine, especially between Orthodox faithful and Eastern Catholics, along with some internal resistance to ecumenical dialogue, especially among the Orthodox.
Before leaving Turkey, Pope Francis said he is ready to go anywhere, anytime to meet with the head of the Russian Orthodox Church, even while acknowledging that Catholic and Orthodox theologians might be slow to agree to end the 1,000-year schism.
Father Lemelson speculated that the dwindling presence of Christians in Turkey and the Middle East, along with the persecution of Christianity in Turkey and elsewhere, is a cause for hastening the ecumenical dialogue and efforts toward greater unity.
Turkey is now 99.8 percent Muslim. Just across the border from Turkey, in Syria and Iraq, Christian minorities are being slaughtered or driven from their homes by militants of the Islamic State.
"I think this comes at a critical moment in history; this sign of unity is important to all Christians to put their nominal differences aside," Father Lemelson said. "I really believe, based on Pope Francis' statements and actions, that he has the proclivity and openness to seeking unity."
Father Lemelson noted Pope Francis' comment that ecumenical unity would not necessarily mean the Orthodox would have to accept conditions to that unity, except the shared profession of faith.
"Maybe it is because this church in Constantinople, in a region where there is incredible violence and where the church has shrunk (in numbers) — it is not inconceivable that the See might have to leave Istanbul. And makes you wonder if there is a silver lining in this unfortunate suffering, this ecumenism in blood.
"To pick up now where we left off in the 12th century, when Eastern Christendom was under attack, and now when there is a new Ottomanism, maybe something good will come from all this new suffering. If Christians come together now that would an extraordinary thing to witness in our lifetime," he said.
Paulist Father Ronald G. Roberson, associate director of the U.S. bishops' Secretariat for Ecumenical and Interreligious Affairs, said the meeting between Pope Francis and Patriarch Bartholomew is part of a long tradition of exchanges of visits, and there was nothing necessarily earth-shattering about an exchange of delegations in and of itself.
But the energetic nature of the papal encounter in Turkey gives the world reason to believe there is renewed energy in ecumenical dialogue at the highest levels, said Father Roberson, who staffs dialogues on the national level with the Orthodox, Oriental Orthodox, Polish National Catholic and Episcopal Churches, as well as the new ecumenical initiative, Christian Churches Together in the USA.
He is also a Catholic member of the international dialogue between the Catholic Church and the Oriental Orthodox churches.
"In terms of the images there, a lot was done that showed a unity of purpose, conversation about the need to work together on the issue of Christian persecution, and the way the two embraced and looked at ease with each other recommits both churches to the dialogue and overcoming our difference," Father Roberson told CNS.
The international dialogue itself has gotten bogged down on the contentious issue of church primacy, Father Roberson noted, and while members will not meet again for another three years, the signing of a joint declaration in Turkey "gave a general push for Catholics and Orthodox to do more things together and make a common witness not only in the Middle East but in other parts of the world," he added.
Still, there are items from the encounter in Turkey that need to be parsed through, Father Roberson noted, including the full implications of Pope Francis' comment that Catholic Church does not intend to impose conditions on unity other than a profession of faith.
"I am not quite sure what that means, and it is a little bit vague and will need to be made more concrete. What he means by unity of the faith goes to the heart of the question," the priest said.
He added that the leadership of the Greek Orthodox Church in the U.S. enthusiastically followed the meetings and posted texts and related information on its website.
The Greek Orthodox Archdiocese of America, headquartered in New York City, is an eparchy of the Ecumenical Patriarchate of Constantinople
"They have put a lot of effort into that and were making the meetings more visible," Father Roberson said.
Father Lemelson said Pope Francis' final gesture in Turkey was a brilliant stroke.
"He immediately extended himself to the Russian Orthodox Church, saying he wants this unity, and although relations between Moscow and the Vatican have remained cold … if anyone can overcome that, Pope Francis can," he said.
"What a beautiful move and I think it will happen, and I don't think the (Russian Orthodox) patriarch will turn down that invitation," he said.
Posted Dec. 2, 2014