Around the Archdiocese: Oct. 21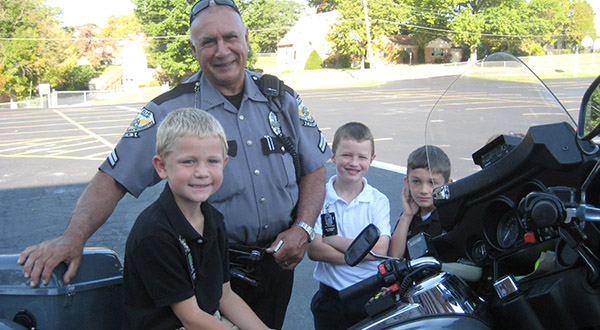 Staff Report
There's never shortage of inspiring or exciting events taking place at Catholic schools, parishes and other institutions throughout the Archdiocese of Cincinnati. With that in mind we're initiating "Around the Archdiocese," an intermittently published online feature highlighting some of the best submitted news items sent to The Catholic Telegraph.
Fire Safety at St. Dominic
Students at St. Dominic School learned about fire safety recently during a presentation called Firefighter Phil.  Following the program, students in preschool through third grade were able to meet some of Delhi Township's police officers and get an up close look at a police cruiser and motorcycle. Pictured in the main image above are students Adam Schloemer, Austin Tettenhorst and Eddie Jones with Corporal Frank Gentile.
Rosaries for the Combonies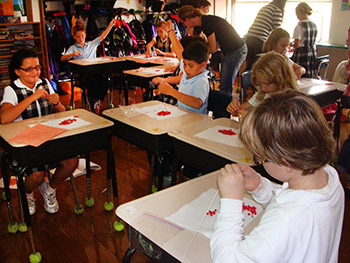 Fourth grade students at St. Gabriel Consolidated School in Glendale reached beyond their community by participating in a service project this month.
The 50 students each made two rosary prayer booklets and two rosaries. The student will each keep one of their created items, and the others will be donated to St. Gabriel's School in Bethlehem, Uganda.
All the rosaries were blessed by Deacon Tim Helmick and the students were also taught how to properly pray the rosary.
St. Gabriel School in Uganda is a Comboni Mission.
Author Susan Vogt making appearance

Award winning author and international speaker, Susan Vogt, will be at St. Mark Bookshop in Centerville on Saturday, October 25  from 3-4 p.m. for a short presentation and book signing. She is featured each week in some parish bulletins. Her experience includes  more than 30 years in Family Life ministry in the Catholic Church. She is the author  of five books and  numerous articles in Catholic publications, such as Catholic Update and U.S. Catholic. She has served as an advisor to the U.S. Bishops'  Committee on Marriage and Family and serves on the leadership team  for the Marianist Lay Network of North America.
Her books include: Blessed By Less: Clearing Your Life By Living Lightly, Raising Kids Who Will Make a Difference and Parenting Your Adult Child.
St. Mark Bookshop is located at 895 S. Main St. at Spring Valley Rd., Centerville, Ohio.
Posted Oct. 21, 2014