Downtown church using St. John Paul II feast to build community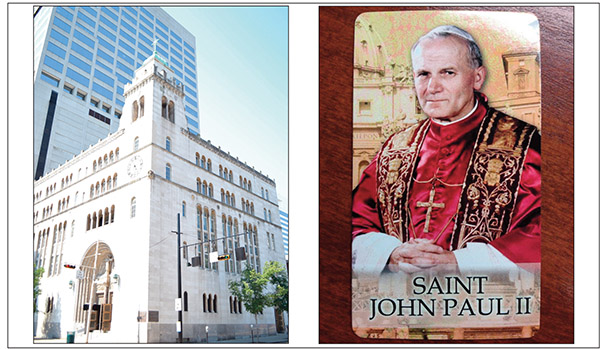 By John Stegeman
The Catholic Telegraph
A laity-led initiative that grew out of the Archdiocese of Cincinnati's Proclaim 2014 convocation will be honoring Pope St. John Paul II on his feast day Wednesday.
Greg Hartman, circulation manager of The Catholic Telegraph, is one of 30 to 40 people who regularly attend the daily 12:10 p.m. Mass at St. Louis Church in downtown Cincinnati. After attending Proclaim, Hartman realized that despite seeing many familiar faces at the daily Mass, he didn't see much interaction between Mass goers.
"After going to Proclaim and thinking about the New Evangelization, I realized there is a community that goes to Mass at 12:10 p.m. everyday day during the week. While they may be running in and out at lunch, it dawned upon me that maybe we should do something to put a face with the church."
With the recent canonizations of Pope St. John Paul II and Pope St. John XXIII drawing much attention, Hartman thought honoring the two saints could be a good idea. The Catholic Telegraph was in possession of large amounts prayer cards each of the new saints as well, but Pope St. John XXIII's first feast day came on a Saturday. Pope St. John Paul II's first feast day is Wednesday Oct. 22, making it an ideal match.
With the approval and support of St. Louis pastor, and archdiocesan chancellor, Father Steve Angi, Hartman enlisted another pair of Mass goers to help.
Husband and wife Ryan and Catherine Lopez, who work for NET Ministries, also attend the daily Mass, and the duo will be passing out Pope St. John Paul II prayer cards and thanking others for attending Mass.
"It's a first," said Hartman. "It's the first time we'll be celebrating John Paul II at Mass… So hopefully we'll put a smile with the church."
St. Louis Catholic Church is located at 29 E. 8th Street, Cincinnati, Ohio. The church is diagonally opposite the Archdiocese of Cincinnati main offices.
Posted Oct. 21, 2014