Mount St. Joe, Xavier work together to help dying athlete's dream come true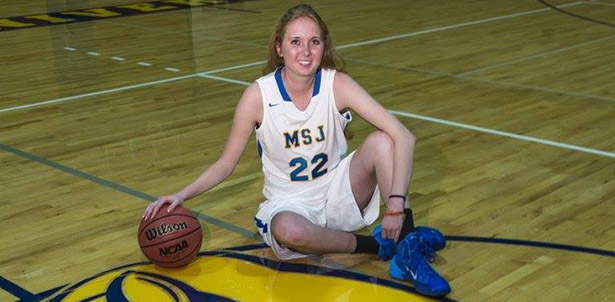 By John Stegeman
The Catholic Telegraph 
By now, most people have heard the story of Lauren Hill.
Thanks to collaboration of two of the Archdiocese of Cincinnati's Catholic universities, more people will be able to witness a key moment in that story and more money will be raised for research on an incurable disease.
Read More: Living to die & dying to live
A feature by The Sporting News' Chris Littmann brought national attention to the saga of the incoming Mount St. Joseph University freshman who is dying of a rare, inoperable brain cancer called Diffuse Intrinsic Pontine Glioma (DIPG). Her story was first told by Local 12's Brad Johansen.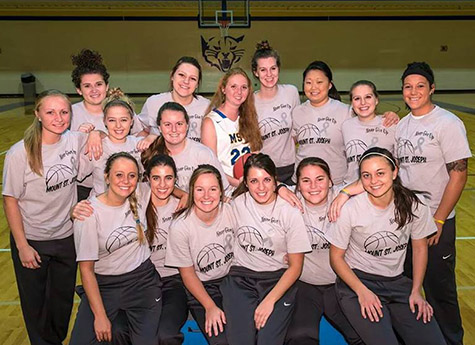 The various media reports say Hill isn't expected to live long, but she'd committed to playing basketball for the Mount on her 18th birthday. Now 19, her goal now is to make good on that commitment by playing one game. To make that happen, Mount St. Joe and its game one opponent this season, Hiram College, worked together. The game was scheduled for Nov. 15 at Hiram, but the schools asked the NCAA for permission to play it Nov. 2 at the Mount, and the NCAA said yes.
Now, because of the extreme interest in Hill's story, the game has been moved again from the Mount's 2,000-seat Harrington Center to Xavier University's 10,250-seat Cintas Center. The Mount and Xavier are both Catholic universities. Hiram, located near Cleveland, is affiliated with the Disciples of Christ.
The game will be played Nov. 2 at 2 p.m. Tickets went on sale Wednesday, Oct. 22, at 9 a.m. for $5 each. Net proceeds will go to The Cure Starts Now Foundation and are available at GoXavier.com or Ticketmaster.com. Tickets may also be purchased over the phone at (800) 745-3000 or at the Xavier ticket office. Xavier University athletic director Greg Christopher said several game staff (ushers, etc.) will be donating their time instead of accepting payment.
Local 12 further reported that parking in the lots around the Cintas Center will be free, and that Ticketmaster will waive fees on tickets purchased through Xavier's website.
UPDATE: By 9:50 a.m. Wednesday, the Ticketmaster website was listing no more seats available for the game. Tickets sold out at the Ticketmaster website in less than one hour.
Update: Mount St. Joseph has confirmed that tickets are sold out.
According to The Cure Starts Now, DIPG most often affects the young and is among the most resistant cancers to chemotherapy. Less than 10% of DIPG children will live longer than 18 months from diagnosis.
"On behalf of the women's basketball team and the entire Mount St. Joseph University community, we are grateful that Lauren will have this opportunity which grants her wish to play college basketball," said Steve Radcliffe, athletic director at the Mount, in a press release. "The Mount's spirit is wherever the Mount community gathers regardless of venue. We have received heartfelt emails and phone calls of support from people around the world who have heard of Lauren's story."
Christopher told The Catholic Telegraph he was watching the news when Local 12's story on Hill first aired. After the segment, he received a text from Xavier men's basketball coach Chris Mack. Mack was the one who suggested Xavier offer the Cintas Center, if Mount St. Joseph and Hill were interested. Christopher immediately emailed Radcliffe and the two began working on the details the next day.
Christopher was pleased Xavier could help, but added that this is about Hill's story and making a memory for her and her teammates.
"This was a very easy thing for Xavier to want to do to be able to help out," Christopher said. "This is about Lauren and about Mount St. Joe. From a Xavier standpoint, we just happened to have the basketball arena. Certainly, we're happy to help but we wanted Mount St. Joe and Lauren to be completely comfortable… This game is really about Lauren and her teammates and trying to make a very memorable experience for them."
Prayer efforts are also underway to support Hill and her family. According to The Catholic Beat, The Sisters of Charity, the religious order that operates Mount St. Joseph University, are asking people to pray to Sister Blandina Segale, a Sister of Charity whose Cause for Sainthood was opened this year, on behalf of Hill. The novena began Oct. 21 and the prayer can be found HERE.
Posted Oct. 22, 2014