Athenaeum 50% tuition reduction extended, funds available to all lay students for 2017-2018 academic year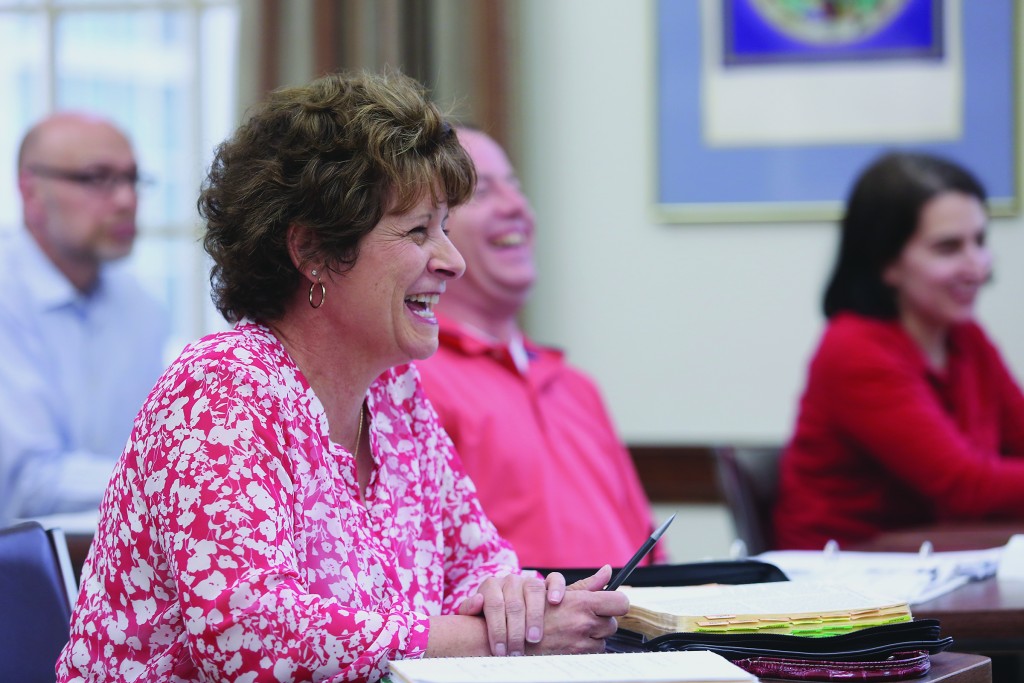 By Colleen Kammer
Marti Shoemaker's mother came to live with her family while still in good health, so Shoemaker, a business owner, had no intention of being her caregiver.
But as her mother eventually needed more care and moved to a nursing home, Shoemaker felt God calling her in a new way. She saw the lonely, hurting people in her mother's nursing home who didn't have the support that her mom did. "I knew then that ministry was something that I was ultimately called to," Shoemaker said.
So instead of working on her MBA, Shoemaker is working on her Master of Arts in Pastoral Ministry (MAPM) at the Athenaeum of Ohio. "I am realizing through our Catholic traditions, how rich and deep and beautiful the Church is," Shoemaker said. "My experience is allowing me to be a better Catholic, and to fall more in love with Jesus, with my faith and with the Church."
The Athenaeum, located in Mt. Washington and sharing a campus and staff with Mount St. Mary's Seminary of the West, has one of the most respected lay formation programs in the United States. Since the Lay Pastoral Ministry Program began in 1975, more than 850 students like Shoemaker have graduated with an MA or a Certificate in Pastoral Ministry. The accredited institution also offers the MA in Theology, MA in Biblical Studies and MA in Catholic Studies, which prepare students to study and teach in these fields or to complete doctoral work.
For the upcoming 2017-2018 academic year, which begins August 23, the Athenaeum is extending its offer of 50 percent tuition reduction for lay students. This decrease in tuition is due to the generosity of area Catholics in the successful One Faith, One Hope, One Love campaign.
"I can't say enough about the Athenaeum and its programs," David Cooley, a Master of Arts in Theology graduate said. "The teachers are so knowledgeable and they are devout in their faith – they have a lot to share with the students. And everyone is so welcoming and helpful."
Both degreed and non-degreed options are available at the Athenaeum's main campus, where students can also take single courses for credit, or audit classes. A non-degreed certificate in Pastoral Ministry, taught at the undergraduate level, is available at the main campus and at satellite locations that rotate throughout the Archdiocese. During the next two academic years, the satellite locations will be at Sacred Heart Parish in McCartyville and at Good Shepherd in Montgomery.
Michael Miller, an MAPM student, encouraged Catholics to enroll in a class or a program, adding, "We take time to further our knowledge in our professional lives so why wouldn't we want to do the same in our spiritual lives?"
The Lay Pastoral Ministry Program at the Athenaeum is both academic and formational. Students receive mentoring, participate in supervised field education and complete a capstone project to address a specific ministerial need in the community.
"My field education as a spiritual care minster in a hospital has opened my heart up," Shoemaker said. Prior to her studies, Shoemaker said she would have certainly had sympathy for the patients, but now she can enter into their suffering and guide them in their relationship with the Lord. "It's allowing God to work in my life in a way that I never knew He could," she said.
"Caring for my mom humbled me," said Shoemaker, who will enter the third and final year of her MAPM this fall. "Before working on my degree, I looked at my responsibility for her as an obligation and then I realized that I wanted to care for her out of love. It's the same thing with the Church. For a long time my association and dedication to the Church came from a sense of obligation. Now it comes from a feeling of love."
Registration for the fall term begins July 3 and ends August 9. For information or to register, call the Athenaeum at (513) 231-2223 or visit Athenaeum.edu.