Author brings complex philosophy to bear on parenting problems today
If Aristotle's Kid Had an iPod: Ancient Wisdom for Modern Parents by Conor Gallagher.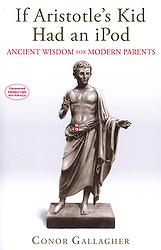 St. Benedict Press (Charlotte, N.C., 2012). 376 pp., $26.95.
Reviewed by Peggy Weber Catholic News Service
Conor Gallagher has a gift. He can make the complex seem simple — even enjoyable.
He takes the serious writings of Aristotle and other philosophers and applies them to the art of parenting. He also manages to throw in references to "Star Wars," "Jerry Maguire" and "Sandlot" along the way.
His book, If Aristotle's Kid Had an iPod: Ancient Wisdom for Modern Parents, really offers some good advice to those who are trying to raise children in today's world.
Gallagher is not just a philosopher spouting ideas from "Nichomachean Ethics." He is the father of eight children under the age of 10. It's a wonder he found the time to write this book!
Gallagher holds a master's degree in philosophy from The Catholic University of America. He also earned a law degree there.
He and his family are involved in their own publishing house and have released videos that try and explain church teachings in a modern and easy-to-understand manner.
In this book, he demonstrates that Aristotle had a good understanding of human nature that helps all people, but especially in the forming of young minds. He writes in his introduction: "When I was studying philosophy in graduate school, I noticed that Aristotle's concepts of moderation, habit formation, friendship, pleasure versus happiness, and so on — were very helpful in raising my three little kids."
This book is quite practical and organized well. After each chapter, Gallagher offers a "playlist" that summarizes the points of the chapter. The book also contains Aristotle's Parenting Assessment Test, Aristotle's Dictionary for Parents, and Notes with helpful links.
This book is significant and inspiring, but it is not really spiritual until the last chapter. (There is a good reference to King David in Chapter 4.) In the final chapter, Gallagher focuses on "Why Your Kid Exists." He writes that that ultimately "your kid was made to worship God."
This book is certainly a welcome addition to any parent's bookshelf. Sometimes parents are just caught up in a flurry of activities — many necessary ones like cooking and laundry. But this book asks families to think about what is important to them and why.
The book is not just a parenting guide. It also provides food for thought for others as they see how Aristotle might help them live a virtuous life. Teachers might be helped by this as well.
This book is wonderful. The only quibble might be the title. It tries too hard to be catchy.
Gallagher has a gift for explaining philosophy well. Here's hoping he is working on something regarding Thomas Aquinas! He would have a lot to say about parenting and life!