Back to School: Building a Community of Love A Letter From Our Superintendent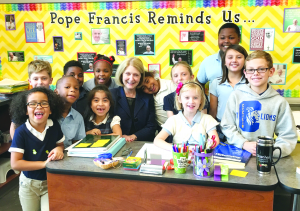 By Susie Gibbons
Very shortly, 106 Catholic Schools within the Archdiocese of Cincinnati will open their doors and welcome approximately 41,000 students for the beginning of the 2019-20 school year. While these days are filled with mixed emotions as we leave behind summer and welcome fall, they are also filled with excitement and newness as we begin a brand new year.
Building a Community of Love is our theme for the 2019-2020 school year. Our Catholic schools are places where students and families become members of a faith community that is enveloped in the love of God. Everything begins and ends with our Catholic faith. From this starting point comes the lessons that enable our students to fully embrace a loving and everlasting relationship with God. The dimension of faith sets our schools apart because we have the privilege of teaching, learning and discussing our Catholic faith. Our students have the opportunity to learn in an environment where spiritual development permeates everything we do, resulting in a deepening of values that will last a lifetime.
In the entrance of many of our schools is the sign:
Be it known to all who enter, Christ is the reason for this school. He is the unseen, ever present teacher in its classes. He is the model of its faculty and the inspiration of its students.
Happy New Year to all of our students, families, teachers and staff, school leaders, pastors, benefactors and all who contribute daily to the lives of our young people who attend our Catholic schools throughout the Archdiocese of Cincinnati. May your year be richly blessed.