Beating Traffic Delays in the Archdiocese of Cincinnati.
When you hear these words, Brent Spence Bridge, you immediately tense up. We've arrived at summer and the orange barrels have blossomed throughout the Archdiocese of Cincinnati. They make ones live miserable. Seen on Interstate 75 Saturday: I-71 at Ohio River 85 minutes. (16 miles away). There's a way to beat the traffic. Pray!
One of the best prescriptions for orange barrel flu is the rosary. When in traffic, simply say the rosary. For a primer:
The Five Joyful Mysteries are traditionally prayed on Mondays, Saturdays, and, during the season of Advent, on Sundays:
1. The Annunciation
2. The Visitation
3. The Nativity
4. The Presentation in the Temple
5. The Finding in the Temple
The Five Sorrowful Mysteries are traditionally prayed on Tuesdays, Fridays, and, during the season of Lent, on Sundays:
1. The Agony in the Garden
2. The Scourging at the Pillar
3. The Crowning with Thorns
4. The Carrying of the Cross
5. The Crucifixion and Death
The Five Glorious Mysteries are traditionally prayed on Wednesdays and, outside the seasons of Advent and Lent, on Sundays:
1. The Resurrection
2. The Ascension
3. The Descent of the Holy Spirit
4. The Assumption
5. The Coronation of Mary
The Five Luminous Mysteries are traditionally prayed on Thursdays:
1. The Baptism of Christ in the Jordan
2. The Wedding Feast at Cana
3. Jesus' Proclamation of the Coming of the Kingdom of God
4. The Transfiguration
5. The Institution of the Eucharist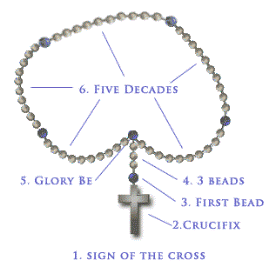 If you don't have a rosary, simply use the indents on your steering wheel!
Another way to beat the orange barrel blues is an examination of conscience. There are many resources available for examination of conscience at http://www.usccb.org/prayer-and-worship/sacraments-and-sacramentals/penance/examinations-of-conscience.cfm. This may be a time to pray to Jesus, think about the good things that happened and give thanksgiving, or those things that you fell short of, and come up with a plan with Christ to combat those shortcomings.
You can also pray for the person that just cut you off. That the Lord watch over them and be with them in their travels.
Make a mental note during the day of the people you have come in contact with and pray for them as you slalom your way through the orange barrel course. Pray especially for those suffering through a difficult time.
The cone of silence: simply take the delay in travel, take a deep breath and listen. Listen to what God is calling you to do. Relish the silence.
Before you know it, you're through the delay and on your way to your destination. Your blood pressure didn't even spike!