Obituary: Father Martin Smith-Soucier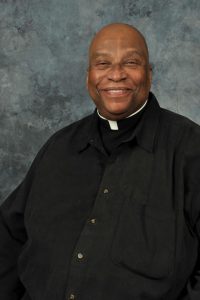 WASHINGTON, D.C. – Father Martin Smith-Soucier, Chief Chaplain at Veterans Affairs (VA) Medical Center of Cincinnati, Ohio, and President of the National Conference of Veterans Affairs Catholic Chaplains (NCVACC), died June 19th at Good Samaritan Hospital in Cincinnati with his family and dear friends at his side. He was 69 years old. Father Smith-Soucier served as a priest for over 40 years.
The funeral Mass was celebrated on Thursday, June 29, at 11:00 a.m. (EDST), at St. Joseph Church, 745 Ezzard Charles Drive, in Cincinnati. His Excellency, the Most Reverend Timothy P. Broglio, J.C.D., Archbishop for the Military Services, USA, will concelebrate with the Bishop of Steubenville, the Most Reverend Jeffrey M. Monforton.
Archbishop Broglio said: "While I share Father Smith-Soucier's firm belief in the Resurrection of the Lord, I regret that this good priest has departed too soon. His ministry to the VA, to the NCVACC, and the Council of Priests of the Archdiocese for the Military Services, USA, will be missed. I join all of those who mourn his passing and pray for his eternal rest."
Born August 9, 1947 in Cincinnati, Father Martin, a son of St. Joseph Parish, was raised in the church, having attended parochial school since childhood at Saint Joseph and Elder High school in Cincinnati. He was ordained a priest and went on to earn two Master's degrees from Catholic University, yet he remained a humble, holy priest. After his ordination, Father Smith-Soucier served at parishes in Steubenville, Ohio, and finally as Chief of Chaplain services at the Cincinnati VA.
Those who knew Father Martin will remember him as a man "devoted to the service of Jesus Christ and our Blessed Lady." He loved God, family, learning, laughter, and holy fellowship. He had a quick wit and could remember every detail of the joke of the day.
Throughout his life and calling, Father Smith-Soucier was always available to listen and share the word of God. Yet he was not afraid of death, because he hoped to sit forever at the feet of Christ the teacher.
Father Smith-Soucier was preceded in death by his parents, Esther and Harold Smith, and three of his brothers, Ernie, Denzeal, and Neal. He is survived by his family matriarch, Aunt Audrey (102 years old) of Las Vegas, two brothers, Arlington of Las Vegas, NV., Leon (Huttie) of Beltsville, MD.; sister Judye (Louis) of Las Vegas, NV; sister in-law Audrey of Cincinnati, OH and numerous nephews, nieces, other relatives, and friends.
Msgr. John J.M. Foster, J.C.D., Archbishop Broglio's Vicar General and Moderator of the Curia, asked all AMS priests to celebrate Mass for the repose of Father Smith-Soucier's soul.