Bi-lingual Mass for Immigration Reform this Sunday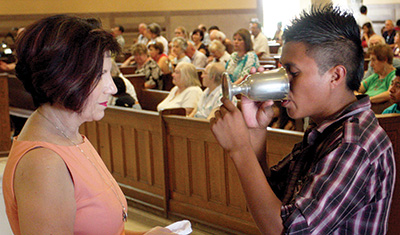 Press Release
Father Mike Pucke, Pastor of St. Julie Billiart, and Father Geoff Drew, Pastor of St.  Maximilian Kolbe, will concelebrate a Mass for Immigration Reform at Noon Sunday, Oct. 13.
The bi-lingual (Spanish/English) Mass will be at St. Maximilian Kolbe and will bring together two different parish communities, with different immigrant populations (Anglos, Hispanics and Vietnamese) to worship together and pray for immigration reform.
This Mass takes place in light of the work of the Catholic Social Action office's Justice for Immigrant's Campaign to educate parishes abouth the U.S. Bishops position on Immigration Reform and the Archdiocese's efforts to increase hospitality towards all immigrants and increase unity and solidarity.