Binzer, new bishops, meet Pope Francis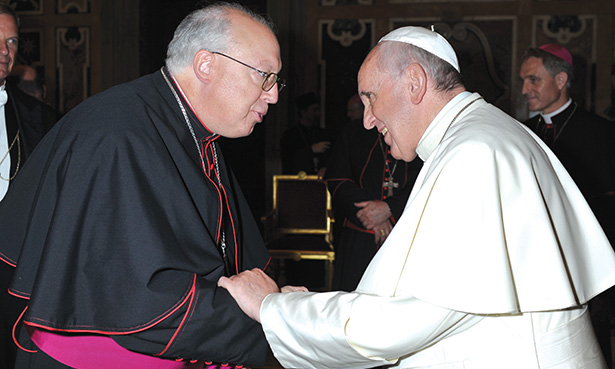 By John Stegeman
The Catholic Telegraph 
Though more than three years have passed since his episcopal ordination, Auxiliary Bishop Joseph R. Binzer recently traveled to the Vatican for a Pilgrimage to the Tomb of St. Peter and Conference for new bishops.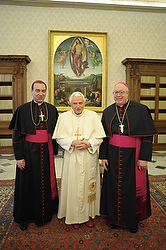 Colloquially referred to as New Bishops School, the itinerary ran from Sept. 9 to Sept. 18, at which point the Bishop Binzer and other new bishops met Pope Francis. Cincinnati's auxiliary bishop had previously been invited to the conference twice but was unable to go due to schedule conflicts.
Bishop Binzer's visit consisted of 19 hour-and-a-half long conferences on a variety of topics, adoration, prayer, pilgrimages and a Mass at the Divino Amore Shine (Shrine of Our Lady of Divine Love). Bishop Binzer also met with Archdiocese of Cincinnati priest Father Dan Hess, who is currently residing in Rome.
Bishop Binzer's meeting with the Holy Father around noon on Sept. 18 was brief, but joyful. The pope delivered a speech, and then took the time to meet the more than 100 bishops gathered one-on-one.
"I introduced myself from the United States and he said, 'Thank you for coming, and please pray for me.' I told him we would. It was that brief because there were so many bishops that were there," Bishop Binzer said. "We see his smile in the media and in pictures, and with the exception of the time when he was speaking and couldn't be smiling, he was smiling the entire time. When he came in to begin the audience and then as he was greeting bishops he was smiling the entire time. The engaging joy with the smile that he has is what I remember and the hospitality we were extended while we were there."
The meeting with the pope, Bishop Binzer's second after meeting Pope Benedict in 2012, was special but the Cincinnati native said the opportunity to meet more than 100 other bishops was more than valuable.
"It was a very humbling experience to be asked to come and to meet some of the other bishops form around the world," Bishop Binzer said. "When I celebrate the Mass, during the Eucharistic prayer where I pray for all the bishops, all the priests and deacons, now when I say the words to pray for bishops, I pray that in a whole new context."
Concerning the pope, the bishop said he plans to do as the Holy Father asked, and he asks the faithful to do the same.
"We should honor the request of Pope Francis," he said, "and pray for him."
Posted Oct. 17, 2014