Bishop Fenwick Participates in Partners In Mission Conference!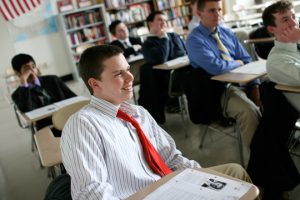 Last week three Bishop Fenwick High School staff members represented the high school at the Partners in Mission Conference in Boston. Director of Communications & Marketing, Natalie Hansman, Robin Blank, Assistant Director of Development, and Andrea Wyatt, Development Specialist, attended the week-long conference that focused on developing excellence in Catholic school advancement and leadership. The women gained insight into new comprehensive and effective solutions to address challenges unique to Catholic education.
"This conference is an opportunity for Catholic School Advancement and Enrollment professionals to learn, engage, and network among colleagues. Even better, the 20+ presenters were available for individual meetings during the conference and for post conference consultations", says Robin Blank, Assistant Director of Development and three year alumni of the conference. She also remarked, "Bishop Fenwick made a significant investment for Natalie, Andrea, and I to attend which demonstrates the commitment of the school toward professional development. We are anxious to share what we have learned and implement new programs for improved outcomes."
The ladies returned with specialized training of best practices in subjects that included branding, general and target marketing, enrollment management, recruitment, retention, advancement operations, annual fund and capital campaigns, major gifts, communications, stewardship and volunteer management. Partners in Mission educated them with proven strategies and practices to advance Fenwick's mission of growth and excellence.
"It was one of the most rewarding experiences of my career. As a newcomer to education, the conference was of critical assistance to help me be successful at Bishop Fenwick. I acquired strategies and processes to prepare our community for positive change and growth", stated Director of Communications & Marketing, Natalie Hansman. Hansman continued by saying, "I am returning from the conference with a better understanding of how all aspects of our organization can interface cohesively with one another to make our school and community stronger. I am especially excited to have Principal Collison on board, who brings dynamic leadership to Fenwick."
Along with dozens of rewarding sessions through the day, the conference gave them opportunities to explore Boston. The ladies joined conference members to network at events like a river cruise, a Red Sox game and an historic trolley ride and tour.
For more information about Partners in Mission and details of the conference please visit: http://www.partnersinmission.com/page.cfm?p=1