LEHMAN FOUNDATION TRUSTEE TO BE INDUCTED INTO LEHMAN HALL OF FAME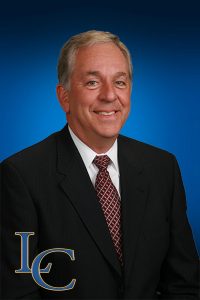 SIDNEY, OH- The Lehman Catholic High School Alumni Association announced the school's 11th annual Lehman Hall of Fame Induction. This year's inductees include a former educator, a lawyer, two staff members, and a Piqua Catholic High School graduate.
The five distinguished individuals –John E. Ferman, John M. Garmhausen, Mike and Joyce Hughes, and Kenneth H. Schlater – will be honored at Lehman Hall of Fame festivities on Saturday, Saturday August 6, 2017.
Since beginning this tradition, the Hall of Fame committee has sought to honor not only alumni but outstanding faculty and supporters of Lehman Catholic. The Hall of Fame evening will begin with Mass at 5:15 p.m. in the St. Elizabeth Ann Seton Chapel. Cocktails and hors d'oeuvres will be served at 6:00 p.m. with dinner to follow at 6:30 p.m. in the Virgil Heitmeyer Gymnasium. For tickets to the Hall of Fame Dinner, please contact Shelley Vanskiver at 937.726.2510 or [email protected]
The second inductee is John M. Garmhausen, a 1966 graduate of Sidney High School. Although John is not a graduate of Lehman; his commitment, dedication, and service to Lehman is second to none. John is a convert to the Catholic Church and one who is dedicated to his church, his family, and to the value of catholic education. He and his wife Debra (a teacher at Lehman and Holy Angels for 25 years) raised four children, all graduates of Lehman Catholic: Caroline '93, Geoff '99, Dustin '98 and Cody '99. John is a partner in the Law Firm of Faulkner, Garmhausen, Keister, and Shenk.
John has served on the Lehman Foundation Board of Trustees for 28 years, ten of those years he served the Board as President. While President of the foundation, John also took time to represent Lehman on the Miami Valley Catholic Education Counsel. Years later, John became a key member of the 'Secure the Future' campaign committee.
John was the chairman and of the 21st Century Campaign that raised in excess of 7 million dollars for the school, the new addition and endowment funds. Although the bulk of this campaign was completed in one year, John kept his committee together for more than five years ensuring it was a complete success.
After that campaign was completed, John became a member of an Ad Hoc Committee of three individuals from the Foundation Board. Their goal was to assist in launching the Lehman Annual Fund that presently supports the school's vital Tuition Assistance Fund, allowing many students the Catholic Education that he is so dedicated to achieving. John was also the co-chair of the Holy Angels Parish Heritage Campaign and is a 20-year member of the Holy Angels Endowment Committee.
John was asked to serve on the Archdiocese Foundation for Catholic Education Board of Trustee. This board is an off-shoot of the 'One Faith ­ One Love – One Hope' Campaign ran by the Archdiocese of Cincinnati. This is another service to Catholic Education and very important for not only Lehman, but all Catholic schools.
In his spare time John has served as President of the following community boards:
– Wilson Health
– Wilson Health Foundation
– Sidney Shelby County YMCA
– Sidney Shelby County Chamber of Commerce
– Shelby County United Way
– Sidney Rotary
John has served Lehman as:
– Foundation Board Member more than 28 years
– Foundation Board President for 10 years
– Miami Valley Catholic Education Counsel
– 21st Century Campaign Chairman
– Secure the Future Committee Key Member
– Annual Fund Ad Hoc' Committee Member
– Catholic Education Board of Trustees Member
With all of the professional and volunteer commitments John juggled each week while his children were young, he never missed a tennis match, football, softball, or baseball game. His presence and unconditional support was always felt by his children. Family has always come first for John. He and Debra opened their home and family to two boys in 1995, this value took on new meaning and set of challenges as he found himself a patriarch of a unique, blended family. John relied on his faith, his friends, and the support of the Lehman community to make the best decisions for his newly expanded family and to be a faithful community leader.
For more than 30 years, John has been a Cavalier, through his concern, care and service to Catholic Education. As his daughter, Caroline, looks back; she would best summarize her father this way, "Dad has always been dedicated to creating an environment for others to succeed- at home, at the firm, at Lehman, at the Hospital/Chamber/YMCA, etc within the community." John's core values reflect that of Lehman; Faith- Education- and Athletics.