Bishop Finn convicted on one charge of failure to report abuse
September 7, 2012
Catholic News Service
KANSAS CITY, Mo. — Bishop Robert W. Finn of Kansas City-St. Joseph was convicted Sept. 6 of one count of failing to report suspected child abuse and acquitted on another count in a brief bench trial.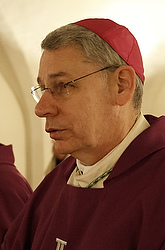 Jackson County Circuit Judge John M. Torrence issued the verdict and quickly set and suspended a sentence of two years' probation. The charges carried a possible maximum sentence of one year in jail and a fine of up to $1,000.
"I will pledge, both personally and in my capacity as bishop, to take every reasonable step to protect children from any abuse or misconduct perpetrated by clergy, diocesan employees or volunteers," Bishop Finn said in a statement after the verdict. "I regret and am sorry for the hurt that these events have caused."
He is the highest ranking U.S. Catholic official to face criminal charges related to child sex abuse.
Bishop Finn, 59, was indicted last October on the misdemeanor charges of failing to report suspected child abuse to state authorities. The Diocese of Kansas City-St. Joseph had faced similar charges, but Torrence dismissed them after sentencing the bishop.
The case began in December 2010, after a computer technician discovered child pornography on a computer used by Father Shawn Ratigan and turned it over to diocesan authorities.
Authorities were not notified until six months later, when a search of the priest's family home turned up images of child pornography. Father Ratigan pleaded guilty in August to five counts of producing or attempting to produce child pornography.
The Jackson County Circuit Court announced Sept. 5 that a bench, or nonjury, trial would be held the next day, rather than the Sept. 24 scheduled jury trial.
Bishop Finn's attorneys entered a nine-page stipulation of testimony that would have been presented at a longer trial before a jury. It outlined how knowledge of Father Ratigan's activities surfaced and how the decision was made on when to report him to state authorities.
"This could have been a lengthy and emotionally difficult trial for all persons affected," said Gerald Handley, J.R. Hobbs and Marilyn Keller, attorneys for the bishop, in a statement.
"The bench trial with a stipulation of testimony has avoided the need for live testimony from diocesan employees, parishioners and others," they added.
"The diocesan process and procedures as previously existed failed to adequately identify the necessity for informing the (state) children's division of Shawn Ratigan's behavior in a more timely manner," the lawyers said. "For this the bishop is truly sorry."
The Associated Press quoted the attorney who represents a dozen families that are suing Father Ratigan.
"I think that this is an amazing outcome, getting a bishop convicted of anything," said attorney Rebecca Randles of Kansas City. "Of course we wish the diocese was also convicted, but we understand the process and how it works."
The AP also quoted Jackson County prosecutor Jean Peters Baker as saying that the advantage of the bench trial was that "all of the victims and the victims' families were spared a very trying process."
"These victims' families — and I've spoken with many, many of them about today's case — they were all ecstatic that this could end today, with their child's anonymity protected," Baker said
Torrence set nine conditions for Bishop Finn's probation, including a requirement that the entire administrative staff of the diocese and all clergy undergo mandatory training on their obligation to report abuse, a training program on what constitutes child pornography and how to identify signs of what is known as grooming, or steps sexual predators take to gain a victim's confidence.
The bishop also was told to set aside $10,000 to pay for counseling for abuse victims and to specifically direct all diocesan staff members, teachers, counselors and staff to report any suspected child abuse immediately to government authorities.
Jack Smith, interim director of communications for the diocese, said Bishop Finn "looks forward to continuing to perform his duties, including carrying out the important obligations placed on him by the court."