Blessed Carlo Acutis: Eucharistic Miracles of the World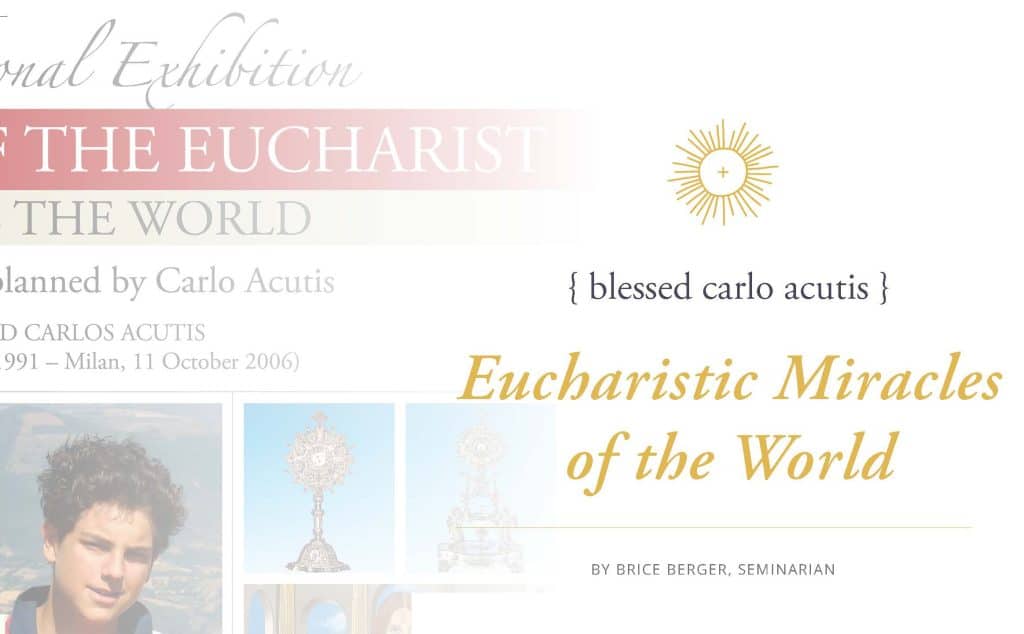 At every Mass we witness a miracle right before our eyes, but it is a miracle we can apprehend only through the eyes of faith. The bread and wine brought to the altar are changed into the Body, Blood, Soul and Divinity of Jesus Christ. In addition to this astounding miracle, there have been extraordinary moments in history when the Lord manifested His presence in the Eucharist in visible and sensory ways. These events happened across the globe and are called Eucharistic Miracles. Blessed Carlo Acutis documented these and created a traveling exhibition currently available in the Archdiocese of Cincinnati.
The exhibition's creation began during my internship year at Guardian Angels Parish. I was asked to give a short presentation on a saint's life to the high school youth group, and while all saints provide great examples of holy lives, I wanted to share the life of a modern-day saint to show that sanctity is achievable today for all men and women, young and old. We are all called to become saints—this is a lifelong journey that must take place every day of our lives.
Blessed Carlo's continued striving for holiness in the modern world drew me to research and present on his life. While he is not yet a canonized saint, the Church declared him a Blessed because of his exemplary life of holiness during his short 15 years on earth. His constant love of God and lived holiness are summed up in a statement he made as he neared his death from Leukemia: "I am happy to die because I lived my life without wasting even a minute of it on anything unpleasing to God."
Two of Blessed Carlo's great joys were computers and technology, and he used these to promote his greatest joy and love: Jesus Christ. He had a profound devotion and love of our Lord Jesus Christ truly present in the Eucharist, and he wanted to visit every Eucharistic Miracle location around the world. While he was not able to fulfill this dream, he was able to document over 130 Eucharistic Miracles worldwide on his website. His love for our Eucharistic Lord was so great that he wanted to share it with everyone he could: His website has been translated into 18 languages and generated a traveling exhibit reproduced around the world.
What started as simply researching Blessed Carlo Acutis' life for a five- minute presentation quickly grew into a larger endeavor. Desiring to continue his work, I wanted to host the Eucharistic Miracles Exhibition at Guardian Angels Church. While I located a traveling exhibition that can be rented, I had a greater desire to make it available to everyone in the Archdiocese of Cincinnati, especially during the current National Eucharistic Revival. In this time when the Lord's True Presence in the Eucharist is doubted or rejected, I saw this exhibition as a way to help foster greater devotion and affirm belief in Jesus' True Presence in the Eucharist. Through the great generosity and support of two businesses owned by Guardian Angels parishioners, we created Blessed Carlo's traveling Eucharistic Miracles Exhibition of 190 display panels. It is now available for hosting at no cost to every parish and group in the Archdiocese of Cincinnati. For more information, contact [email protected].
This article appeared in the March 2023 edition of The Catholic Telegraph Magazine. For your complimentary subscription, click here.