The "What" and the "Why" of It All
As someone who works in the Center for the New Evangelization, it warms my heart to see this issue devoted to evangelization. It's also edifying to flip through these pages and read so many stories of how people from across our archdiocese live and proclaim the Gospel.
Each story, in its own way, shows us how to evangelize. By arranging a beautiful kaleidoscope of personal presence and initiative, this magazine has the "how" well-covered. So, in this space let's examine the "what" and the "why."
What is evangelization? Why do we evangelize?
WHAT IT'S ALL ABOUT
The Catechism of the Catholic Church (CCC) provides a fitting definition: "Evangelization–The proclamation of Christ and his Gospel (Greek: evangelion) by word and the testimony of life, in fulfillment of Christ's command."
Let's break this down. First, evangelization is "the proclamation"— it's about saying something. Even when we live well, we are saying something. Furthermore, this proclamation is "of Christ," which means it is from Jesus and about Jesus. We need to tell people about the "Christ," the Anointed One, who lived and died in order to save us.
This is a two-fold proclamation that is of "his Gospel": Not only do we tell people about Jesus, we preach what Jesus preached, namely, "The Kingdom of heaven is at hand" (Mt. 4:17). And to be faithful evangelists, we need to proclaim through a two-fold mode of transmission: "by word and the testimony of life."
Finally, evangelization is "in fulfillment of Christ's command." We evangelize because Jesus commands it of us, especially in the Great Commission: "Go, therefore, and make disciples of all nations … teaching them to observe all that I have commanded you; and lo, I am with you always, to the close of the age" (Mt. 28:19-20).
WHY WE DO WHAT WE DO
Jesus' command should be reason enough to evangelize, but most of us need an extra push, so here are a few more reasons:
In fidelity to Church teaching. The Church teaches that evangelization is the priority of every Christian. Pope St. John Paul II said it well: "No believer in Christ, no institution of the Church can avoid this supreme duty: to proclaim Christ to all peoples" (Redemptoris Missio, 3). And, as Pope Paul VI said: "The Church exists to evangelize" (Evangelii Nuntiandi, 14).
In response to the gifts we received. In Baptism, sin is vanquished, we join God's family and we are anointed and initiated into Jesus' prophetic ministry, which includes proclaiming the Gospel. To equip us to build up the Church and her members, we receive charisms, which are graces, and the theological virtues of faith, hope and love.In essence, God lavishly prepared us to evangelize; thus, it's a complete reversal to not do so. It's like receiving 10 years of medical training then bagging groceries for a living. Such a person is not living up to the thorough preparation received!
For our own good. Evangelization orients us toward others, but it's also for our own good, for we step into our authentic identity, becoming the evangelizers God made us to be. It brings more faith, hope, love and joy into our lives because these gifts increase as they are given away. And when we evangelize, we can be sure we are following God's will for our lives.
For the salvation of all. Ultimately, evangelization is a salvation issue. It's how we save others (cf. Rom. 1:16), it's how we save ourselves (cf. CCC, 1816), and it's one of the best ways to ensure that when we finally meet Jesus, He will acknowledge us before His Father in heaven (cf. Mt. 10:32).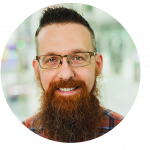 Nicholas Hardesty is the associate director of Adult Evangelization and RCIA for the Center for the New Evangelization. | [email protected]
This article appeared in the March 2023 edition of The Catholic Telegraph Magazine. For your complimentary subscription, click here.