Book Review: Jane Austen's Genius Guide to Life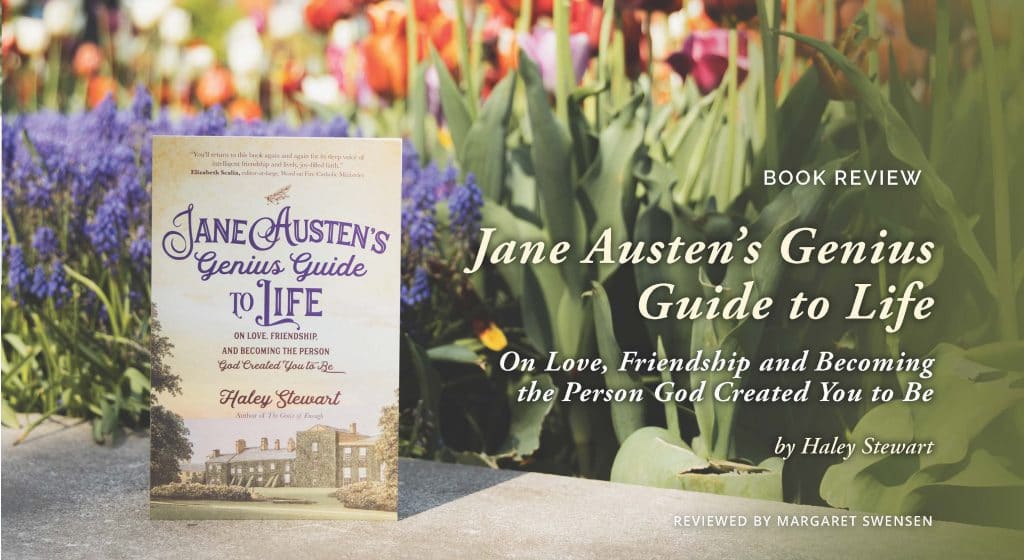 "There is, I believe, in every disposition a tendency to some particular evil," Mr. Darcy admits to Elizabeth Bennet when she pokes fun at his seriousness.
As Christians, we believe sin separates us from God. And separation from God is separation from our true selves. It seems our God-given dispositions contribute to our daily struggles as often as our successes. In her characters' development, Jane Austen demonstrates that tendencies to particular evils, however naturally they seem to occur, are not natural at all and are, more importantly, not unchangeable.
Perhaps we can't put a name to the sins that weigh on our hearts—they often masquerade as something else. But what if we could put a face to these afflictions? Author Haley Stewart thinks that Jane Austen can help—because we may find our most nagging vices look a lot like those of Elizabeth Bennet's. Or Emma Woodhouse. Or Edmund Bertram. And so on.
In her book Jane Austen's Genius Guide to Life, Stewart considers Austen's six finished novels, dedicating a chapter to each and focusing on one dominant vice with its corresponding virtue. Stewart provides a close examination of these vices and the virtues that can overcome them. Using a Catholic interpretation, she looks beyond the pages of Austen's novels, making regular references to The Divine Comedy with input from familiar philosophers: G.K. Chesterton, C.S. Lewis and Alasdair MacIntyre, to name a few. She uses personal anecdotes and casual language so that the reader feels she was discussing Austen with a close friend—a goal Stewart hopes to facilitate through this book and its discussion questions.
Austen's heroines live in simplified worlds with small circles of acquaintances. These are distinctly Christian worlds in which sin has clear consequences. "It's possible," says Stewart, "to know what is right," and characters "have the freedom to choose what is good." Stewart claims that these simple, small worlds are the heart of Austen's genius, inviting the reader to place himself in the shoes of particular characters.
What is keeping Mr. Darcy and Elizabeth Bennet from each other and their call to marriage? Pride (no surprise there). And the antidote to pride? Humility. Simple enough. But Stewart points out another facet of Austen's genius: she does not sermonize. The power of Austen's narratives do the work. Elizabeth and Mr. Darcy endure an excruciating journey to self-discovery. They are each allowed to feel the weight of their misjudgments so that they may come to be free of them at last.
Jane Austen's Genius Guide to Life is a lively read and a welcome companion to Austen's novels. Stewart laughs (and cringes) along with the reader as we delight in the oft ridiculous and occasionally virtuous characters in Austen's invented worlds. While it is not necessary to have read all of Austen's works to glean the moral lessons Stewart tries to clarify, this book is certain to make one eager to read (or re-read) the works of this "underestimated genius." And we may, in the process, grow closer to becoming the person God created us to be.
Jane Austen's Genius Guide to Life by Haley Stewart; Ave Maria Press; $16.95; published March 25, 2022.
This article appeared in the July 2022 edition of The Catholic Telegraph Magazine. For your complimentary subscription, click here.