Booklet, play bring Cincinnati's immigrant experience to life
August 4, 2012
By Eileen Connelly, OSU
Cincinnati's rich history is rooted in part in the experiences of the diverse groups of immigrants who came to the Queen City filled with faith and hope seeking new opportunities and better lives.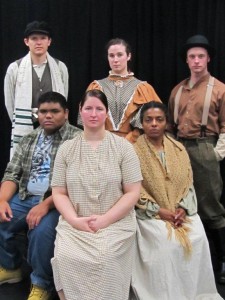 Those experiences are detailed and brought to life through "Cincinnati: A City of Immigrants," a project that that has evolved into both a booklet and a play geared toward providing a glimpse into the city's past and opportunity to learn more about and appreciate the contributions of other cultures.
According to Alfonso Comejo, director of the Hispanic Chamber of Commerce of Cincinnati, "City of Immigrants" in booklet form originated in 2009 when the organization learned about the bullying of children of Hispanic appearance in area schools. "This was nothing new," Comejo said, "but it's something we had seen increase over the years. I initially thought, 'why us?' We're not an official agency, but realized it's an issue we had to address."
After discussions with many school principals, Comejo and the Chamber's board realized the cause of the bullying problem was ignorance. "Immigration stories are not typically taught in our schools,' Comejo said, noting that most Cincinnatians are aware of the German wave of immigration that influenced the city and the large numbers of African Americans who settled here. Fewer people, though, know of the contributions by other groups, such as the Irish, Jewish or Appalachian immigrants.
Working together with area historians, educators and corporate sponsors, "Cincinnati: A City of Immigrants," a 24-page booklet and history curriculum for junior high school students was developed. The booklet, written by local author and historian Mary Ann Olding, highlights the six largest immigrant groups to come to Cincinnati since 1830: German, Irish, African American, Jewish, Appalachian and Hispanic. To date, more than 88,000 copies have been distributed to schools, churches, hospitals, universities, retirement communities and other organizations free of charge. The booklet includes the struggles of the immigrants that "came in large numbers, causing outrage, anti-immigrant sentiments, rejection and even violence," said Comejo.
"Our hope is that this program will encourage young people and others to examine their own immigrant roots — from goetta to guacamole and everything in between — to feel a greater sense of acceptance for all immigrants," he said.
Response to the program, which includes teacher training and education, has been extremely positive, he said, with area schools being particular receptive. "We've found that young people are completely unaware of our immigration history," Cormejo explained, "but once they see that their own ancestors were often viewed with suspicion and struggled against discrimination and ignorance, they tend to be more tolerant of those peers they view as 'different.'"
Out of the booklet, came the play "Cincinnati: City of Immigrants," originally produced by ArtWave, a division of the Children's Theatre of Cincinnati, in the summer of 2011 and presented in venues across the region. Beginning in the spring, the Children's Theatre also began performances of the play, written by local playwright Joe McDonough, at local schools.
The 50-minute production, geared toward students in grades five through eight, introduces six fictional characters who immigrated to Cincinnati over a 150-year period, including a young German woman living in Over-the-Rhine in 1850, an African-American former slave searching for her son, and a present-day Latino family celebrating a birthday in Price Hill. A series of overlapping monologues by the characters, all dressed in period costume, weaves together their common experiences — meeting new people, encountering discrimination, overcoming adversity and bringing parts of their culture to a new home. Some stories interact in ways that will surprise audiences and encourage them to think about how their own family histories connect them to their fellow Cincinnatians. Each audience member also receives a copy of the "City of Immigrants" booklet. In addition, one of three workshops is available to enhance the educational experience: "Bullying," "Self-Esteem through Self-Expression," or "Inside the City of Immigrants."
A number of area Catholic schools students have already seen the play, including those from St. Bernard School in Taylor Creek and St. Martin of Tours in Cheviot The students watched and listened intently to the moving dialogue and emotion of the characters during a performance at St. Bernard in late May. Afterward, the actors introduced themselves to the audience and the children had the opportunity for questions, which ranged from how long it took the actors to rehearse for the performance to the differences in their costumes and whether the play was based on historical events.
Denise Poage, director of education sales at the Children's Theatre and mother of St. Bernard student, Griffen, who has seen the play, said, "I think from a parent's perspective it really opens up the children's world to understand that there are people in their community who may look different, but are just like them. It exposes them to a variety of different cultures."
"Many of the junior high school students came up to me and thanked me and told me how much they had learned from the performance, and I think it was particularly meaningful for our fourth graders who had been studying a unit on immigration," she added.
"City of Immigrants" performances are being supported and promoted by the SC Ministry Foundation, along with BRIDGES for a Just Community and the archdiocesan Catholic Schools and Catholic Social Action Offices. Loretta Dees, director of communications and program manager for the SC Ministry Foundation, said the organization chose to fund "City of Immigrants" after determining the project is in line with the United States Conference of Catholic Bishops' stance on immigration and due to the Sisters of Charity's commitment to the issue. "It's a way to make things more meaningful for the students," she said. "The schools that have seen the play have been very excited about it. It's important for the students that we're talking about this because they'll be the ones that will be involved in comprehensive immigration reform when it happens."
"The Catholic church has walked with immigrants throughout our history, sometimes in unpopular ways," acknowledged Dave Scharfenberger, Justice for Immigrants coordinator for the Social Action Office. "Two things that struck me about the play are the distinct struggles the difference ethnic groups have had, but also the commonality of some of those struggles — injustice and prejudice — that still happen today. Besides just talking about immigration, it helps us look at ways we can break down the stereotypes that people have about immigrants and build relationships."
Performances of "City of Immigrants " will begin again in September. For more information about the project, visit http://www.cincinnati-cityofimmigrants. com/cci/index.html, or to learn how to bring a performance to your school or parish, contact Kelly Germain at the Children's Theatre of Cincinnati at 513-569-8080, ext. 20, or [email protected].