Breaking new ground in Catholic education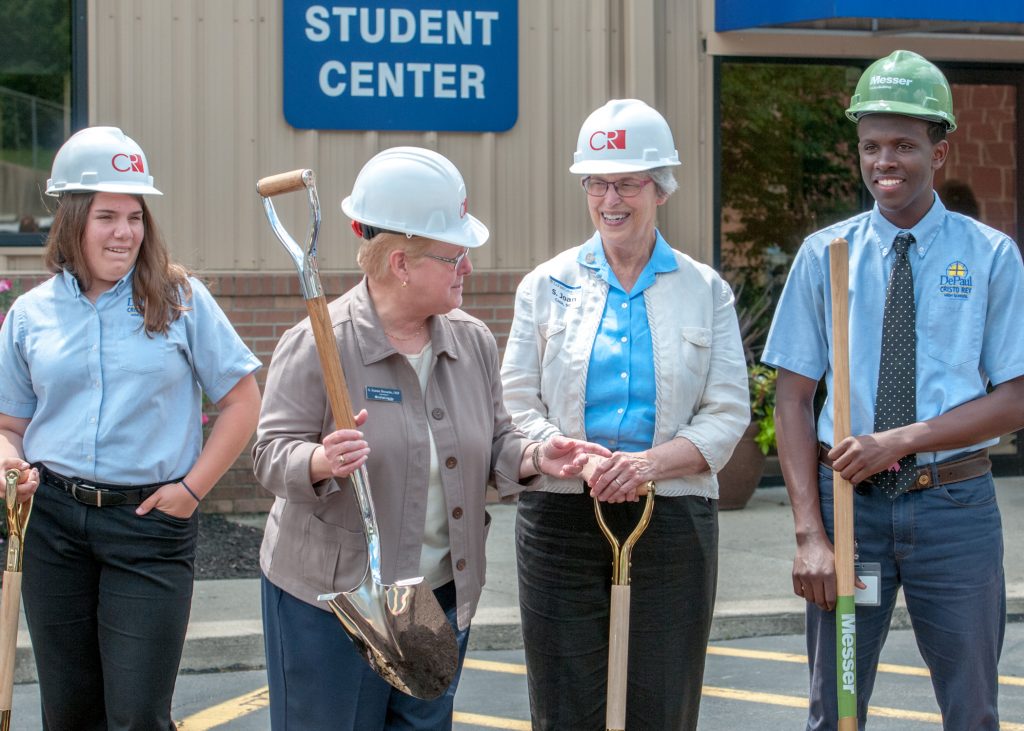 DePaul Cristo Rey High School expansion will add classrooms — and services
By Eileen Connelly, OSU
This story first appeared in our July, 2018 print issue
A major transformation underway at the Clifton campus of DePaul Cristo Rey High School (DPCR) will enhance students' quality of life and further efforts to prepare them for bright futures. 
     DPCR first broke new ground in urban education in the archdiocese when it opened in 2011. Sponsored by the Sisters of Charity of Cincinnati, DPCR is one of 32 Catholic high schools in the nationwide Cristo Rey Network, which offers underserved students challenging college preparatory academics combined with a Corporate Work Study Program. 
     School leaders, students, supporters, and those involved in transforming the campus gathered May 22 for a groundbreaking ceremony. Over the summer, work will begin on a new cafeteria/gymnasium, the first phase of the construction project. Within two years, there will be two new buildings, a reconfigured campus entrance and additional parking. 
     School leaders silently launched DPCR's first capital campaign — Building. New. Futures. Together. For a Greater Cincinnati — last summer, said Margee Garbsch, director of communications and marketing. In less than a year, it's raised more than $17.8 million in gifts and pledges. Fundraising efforts continue toward the $19.5 million goal. 
     The generosity of DPCR's supporters has been "amazing on so many levels," Garbsch said. "The local community has really embraced the school and our mission." 
     Franciscan Sister Jeanne Bessette, DPCR president, explained that the expansion project is not just due to space issues, but also to better support the academic, social and post-graduation needs of students. For example, she said, the school's growing student population, most of whom qualify for the federal free and reduced meal program, is now too large for the cafeteria. The question becomes "How do we feed these kids?" she said, noting that food insecurity is an issue for many of the young people. 
     DPCR provides a hot breakfast that most students take advantage of, and sack lunches on students' work study days. The current limited space means multiple lunch periods held at awkward times, and that food storage space is limited. Sister Jeanne said the expansion will solve these problems while also allowing volunteers to provide an early dinner for students and stock a small food pantry. 
     DPCR also plans to provide an office for a school nurse (there's not one currently on staff), a sick bay, private shower rooms, and laundry facilities. The latter is especially important for DPCR students because many don't have access to a washer and dryer at home, or the money to go to a laundromat.  
    "This is about improving quality of life for our students, addressing the little things that can cause them to drop out or fall behind," Sister Jeanne explained. 
     Once the capital funds are raised, focus will shift to raising an additional $4 mil-
lion for the school's Graduate Success program, which provides financial and human resources to help all DPCR alumni finish college. 
      "This is such a best practice, I'd love to see every Catholic high school do this for their students, no matter what the income level is," Sister Jeanne said. 
     DPCR students are excited about the construction project and grateful for the unique opportunities their school provides. 
     Igaba, a sophomore basketball player, said increased gym space "means more people can practice and play. It won't be as crowded and people will really be able to improve their skills and enjoy themselves." 
     Igaba, who hopes to study architecture in college, said his experience working at Messer Construction Co. as part of the work study program will leave him well prepared for the future. "I know it won't be easy, but I'll be ready," he said. 
     Junior Grace Frazier feels the same way about her time with the Hamilton County Prosecutor's Office, where she has visited local courts and assisted with police notifications, case filing, and data entry. She plans to attend law school and one day become a prosecutor herself. 
      "It's great to see DPCR expanding all the good work it's been doing," she said. "The new classroom space will give students an even better learning environment." 
      "I'm excited that I'll get to be here for the whole project," added sophomore Katie King, who's worked at St. Elizabeth Health Care and would like to become a nurse. "The bigger space means we'll have more space to learn, socialize, and make friends." 
     For information about DPCR or the capital campaign, visit Depaulcristorey.org. For information about the Cristo Rey Network, visit Cristoreynetwork.org.