Services for Fr. Chris Coleman set for Thursday-Friday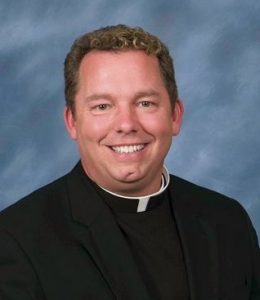 Reception of the body of Rev. Christopher C. Coleman, who died Sunday, July 9, as a result of an auto accident, will take place at 6 p.m. Thursday, July 13, at the Cathedral of St. Peter in Chains in downtown Cincinnati. Visitation will continue until 9 p.m.
Mass of Christian Burial will take place at 10 a.m. Friday, July 14, at the Cathedral. Most Rev. Dennis M. Schnurr, Archbishop of Cincinnati, will preside. Deacon Francis X. Wagner will preach. Burial will follow on Saturday, July 15, at St. Patrick Cemetery, London, Ohio. It will be a private family burial.
Fr. Coleman was born on June 20, 1967 in London, Ohio. He received a B.S. in Paper Science and Engineering from Miami University at Oxford, Ohio and an M.B.A. in Marketing from Xavier University, Cincinnati. Fr. Coleman received a M.Div. in Theological Studies from the Athenaeum of Ohio/Mount St. Mary's Seminary of the West, Cincinnati. He was ordained a priest on May 20, 2006 at St. Peter in Chains Cathedral, Cincinnati, Ohio by Archbishop Daniel E. Pilarczyk.
He received his first assignment on July 1, 2006 as Parochial Vicar of Good Shepherd Parish, Montgomery. On July 1, 2008, he was appointed Pastor of St. Anthony Parish, Dayton for a period of six years. He was elected to the Presbyteral Council for the Dayton Deanery and appointed a member of the College of Consultors of the Archdiocese of Cincinnati for a term of five year, 2010-2015.
On July 1, 2014, Fr. Coleman was appointed Pastor of the Winton Wyoming Pastoral Region (Our Lady of the Rosary Parish, Greenhills; St. James of the Valley Parish, Wyoming; and St. Matthias Parish, Forest Park) for a period of six years.
Please pray for the repose of his soul, for his family and parishioners.