Britain's ranking cleric Cardinal Keith O'Brien resigns, will skip conclave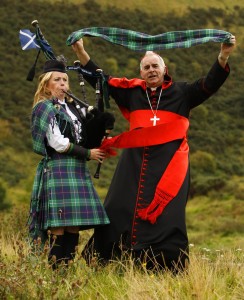 Facing allegations of inappropriate relationships and conduct with several priests in the 1980s, Cardinal Keith O'Brien has announced that he sent his resignation in to Pope Benedict XVI some months ago as a result of "indifferent health."
USA Today reports that the 75-year-old Cardinal O'Brien is the leader of the Roman Catholic Church in Scotland, and that he is the most senior Catholic clergy in the United Kingdom. Despite his position as a cardinal, the Catholic News Agency reports that O'Brien will no take part in the upcoming conclave to elect Pope Benedict XVI's successor. O'Brien is skipping to conclave so as not to detract media attention from the Pope, and the election of his successor.
"I do not wish media attention in Rome to be focussed on me — but rather on Pope Benedict XVI and on his successor," Cardinal Keith O'Brien said.
"Approaching the age of seventy-five and at times in indifferent health, I tendered my resignation as Archbishop of Saint Andrews and Edinburgh to Pope Benedict XVI some months ago.  I was happy to know that he accepted my resignation 'nunc pro tunc' – (now – but to take effect later) on 13 November 2012," Cardinal O'Brien said in a Feb. 25 statement. CNA reported that the Pope accepted the resignation effective Feb. 25.
O'Brien's decision to not attend the conclave has furthered calls by some for US Cardinal Roger Mahony to do the same. Mahony was relieved of public ministry by the current Archbishop of Los Angeles for his role in that archdiocese's abuse scandal but has said he intends to attend the conclave.