Calvary Cemetery marks progress, will dedicate St. Kateri statue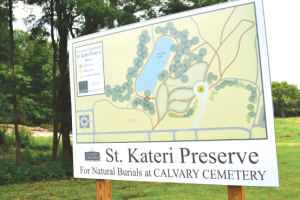 Staff Report
Calvary Cemetery in Dayton will dedicate a project a year in the making on April 22.
"Last Earth Day we announced the establishment of the St Kateri Natural Preserve," Rick Meade, Executive Director of Calvary Cemetery said this week. "This Earth Day, we celebrate the completion of Phase One of our land conservation project and dedicate the statue of our patron saint of the environment."
Meade announced that the official dedication/grand opening ceremony is at 10 a.m. April 22. Director of the National Kateri Tekakwitha Conference, Sister Kateri Mitchell, will be a featured speaker. Sister Kateri, a member of the St Regis, NY, Mohawk tribe, heads the organization of Native Americans who dedicate themselves to good works in honor of the saint.
"Over the past twelve months we have cleared seven acres of prairie and woods of honeysuckle and other invasive species and we have created a 1.8 acre lake and walking trails throughout the area."
Meade said the first burials of cremated remains and burial of a full body in a biodegradable casket have taken place, and seventeen other grave sites have been purchased.
"Area funeral directors report they are working with families in preplanning to be naturally buried within the Preserve. We are very happy to see this alternative is being embraced by the Dayton public. The new lake and plantings of native Ohio grasses and plants have dramatically improved the landscape of the Preserve," Meade said. "It is visible from a large part of the cemetery and establishes a new destination for all visitors desiring a peaceful, meditative experience."
"The statue of St Kateri, sculpted by artist Marie Barbera, brings an element of sacred art to the site and is a beautiful focal point for prayer," Meade said.
The April 22 program includes a welcome by Rick Meade, Executive Director followed by a presentation on the life of St. Kateri by Sr. Kateri. That will be followed by a Spirit Way reading by Guy Jones, Director of Miami Valley Native American Council; musical tribute to the Earth by flute player; and a procession to the statue. Fr. Chris Worland will bless the statue and there will be a scripture reading followed by a dove release.
An informal reception will follow the dedication ceremonies. For more information contact Karla Hollencamp at 937-239-7665 or the cemetery office at 937-293-1221.
Posted April 7, 2015