Campus minister receives distinguished educator award
January 23, 2012
ST. MARGARET MARY DEANERY — La Salle High School's director of campus ministry, Chris Winiarski, has received a Distinguished Lasallian Educator Award for 2011 from the Christian Brothers of the Midwest.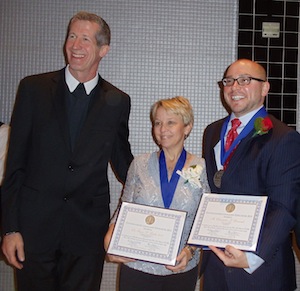 The 1996 La Salle graduate received the award Nov. 19 at the Christian Brothers' national Lasallian Huether Conference in Washington, D.C. Christian Brothers is a Roman Catholic religious teaching congregation founded in France by St. Jean-Baptiste de La Salle, La Salle High School's namesake.
According to the Christian Brothers of the Midwest, Winiarski and the other recipient, Tracie L. Burke of Christian Brothers University in Memphis, exemplify "faith in action" through their extensive ministerial, professional and personal commitments to civic engagement.
Winiarski earned a degree in religious education from the College of Mount St. Joseph. As an undergraduate, he was youth minister and coordinator of religious education at St. Catharine of Siena Parish in Westwood. He joined La Salle's teaching staff after graduation in 2001. He studied pastoral counseling at the Athenaeum of Ohio and is studying Lasallian leadership at St. Mary's University of Minnesota Twin Cities campus.
Winiarski and his wife, Angela, and their three children are members of both St. Catharine and St. James the Greater in White Oak.
"I feel blessed to have received a holistic Catholic Lasallian education," Winiarski said. "I can remembering learning how to hone my writing from Mick Owens, attempting to understand God's call for me via my discussions with the late Father Chuck Mentrup, to push myself beyond my perceived comfort zone to new physical and psychological growth from Coach Jim Louder and to live the Lasallian call to serve by feeding the poor and the marginalized at a local soup kitchen with Bill Cady.
"Needless to say La Salle High School transformed me into a more healthy, loving, informed and faith-filled person," he continued. "I am a better person because of my Lasallian education."
Lasallian educators "are called to assist one another to find meaning along this journey of life, while striving for authentic growth of the body, mind and spirit," he added.
His peers at La Salle respect Winiarski. "I am amazed at how many of our graduates come back to see him and how he welcomes them with open arms," said theology teacher and Lasallian animator Philip Reichle. "Chris is a mentor, teacher, friend and brother to many.
I'm not sure if he realizes just how much of an impact he has had on so many in such a short period of time."
"Chris is a real blessing to La Salle High School," said Tom Luebbe, principal. "He is a highly instrumental leader, challenging all within our community to live the message of our Lasallian mission. Passionately, he demonstrates a genuine interest in every student and adult and possesses a sincere concern for their spiritual growth."
Winiarski is co-author and developer of La Salle's De La Salle Signum Fidei Institute (DLSFI), a comprehensive faith and student leadership program. The program's goal is to develop each student as a servant leader, equipped with experience and confidence to ethically lead in the 21st century. Winiarski is credited with finding innovative ways to incorporate key components of the Lasallian heritage into the DLSFI curriculum, retreat and service learning programs, and in the faculty and staff's professional development.
Winiarski also prepares and supports all faculty members within the Lasallian Youth Service Immersion Trip program, which he began and continues to direct and be a participant. Luebbe said he consistently mentors leaders of Kairos and other retreats the school offers, DLSFI directors, prayer service leaders and service learning instructors.