Cardinal announces school closures, mergers in Chicago Archdiocese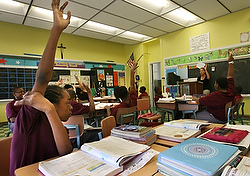 By Catholic News Service
CHICAGO — In a major restructuring, the Archdiocese of Chicago announced Oct. 29 that 14 elementary schools would be closed or merged at the end of the 2014-2015 academic year.
"This restructuring is the result of our ongoing efforts to strengthen and support sustainable Catholic schools over the long term," said Thomas McGrath, chief operating officer for Catholic schools. "Although difficult in the immediate term, we know taking these steps will increase access for families and students to excellent Catholic school education, now and in the future."
The closings and reconfigurations affect approximately 1,280 elementary students and 229 staff.
In an open letter about school finances published in the Catholic New World, Chicago's archdiocesan newspaper, Cardinal Francis E. George wrote that aid to schools increased significantly in recent years, reaching more than $23 million in 2012. That level decreased with budget cuts but it still totaled $18 million in the fiscal year 2014 just ended.
"This level is higher than the archdiocese can afford and still remain financially healthy and has contributed to unsustainable operating deficits in the archdiocesan budget. These deficits stem from our ongoing operations and do not include expenses related to misconduct settlements," Cardinal George wrote.
Parish contributions and archdiocesan assets have funded school operating costs to the tune of approximately $165 million over the past five years. The average cost of tuition in Catholic schools is $4,500 per student and in many schools the majority of students qualify for free or reduced-price lunches.
In May, officials in the Office of Catholic Schools met with at-risk schools with the goal of improvement by fall. The criteria to determine a school's sustainability and potential for reconfiguration included: total archdiocesan aid of more than $300,000 annually; and/or total enrollment lower than 225 students; and/or total archdiocesan aid per student greater than $1,000 annually.
"Even with new scholarships, many of these schools were not able to grow in student numbers," the cardinal wrote. "Supporting many low-enrollment schools, particularly those with demographic challenges, spreads our scarce resources very thin and limits our ability to invest dollars in strengthening viable school offerings for our students."
Despite the increased costs of education and decreased resources, ACT scores continue to climb each year and the archdiocese's school system — the largest private system in the nation — has more Blue Ribbon Schools than any other system in the country, Cardinal George wrote.
"We provide this vital service to our community with no direct public funding, saving Cook and Lake counties an estimated $1.5 billion annually," he wrote.
Cardinal George said he wanted to make this decision on schools before his retirement and that Archbishop Blase J. Cupich, who will be installed as his successor Nov. 18, had been made aware of the closings.
Posted Oct. 30, 2014