Cardinal calls for solidarity with Middle East's persecuted Christians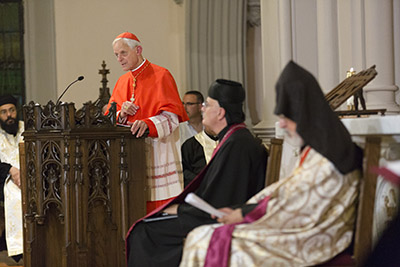 WASHINGTON — Cardinal Donald W. Wuerl of Washington called for solidarity with the persecuted Christians of the Middle East during a Sept. 9 prayer service at a Roman Catholic church on Capitol Hill.
The prayer service was held in conjunction with the In Defense of Christians summit held at a Capitol Hill hotel, within walking distance of St. Joseph Church.
The Sept. 9-11 summit is the second for the organization, which Cardinal Wuerl noted in his reflections during the prayer service.
"All of came together (in 2014) so the people could … express solidarity with our brothers and sisters," he said, "and bear prayerful witness to the suffering of so many … especially our Christian brothers and sisters."
This year, Cardinal Wuerl said, "we are gathered in solidarity and witness" again to support the region's Christians who face "tragedy" every day. "Much, much needs to be said about what continues to happen in the Middle East," he added.
"After the prayer service, we can walk out and enjoy freedom. So many of our brothers and sisters cannot do that."
Cardinal Wuerl recalled the beatitudes, as proclaimed in English at the prayer service — but also in sung chant — by Melkite Father Nabil Haddad, founder of the Jordanian Interfaith Coexistence Research Center, and in particular, "those who hunger and thirst for righteousness." These, the cardinal said, are today's Middle East's Christians.
"We know that we can offer our prayers," he added. "Prayer helps. Prayer is effective."
Cardinal Wuerl suggested praying to Our Lady Help of Christians on behalf of Middle East Christians, who face continuous pressures on whether to stay in their native homelands in the face of turbulence and war, or to flee to an uncertain future elsewhere in the region, or perhaps another continent.
"Jesus says let your light be seen, let your light shine," Cardinal Wuerl said.
The prayer service featured the Marian hymn "Immaculate Mary," sung in English and Arabic, and a procession with Marian icons. Elements of Melkite, Maronite, Byzantine, Syriac, Armenian and Syro-Malabar rites were incorporated into the service.
Posted Sept. 11, 2015