Cardinal George of Chicago to speak at Athenaeum April 24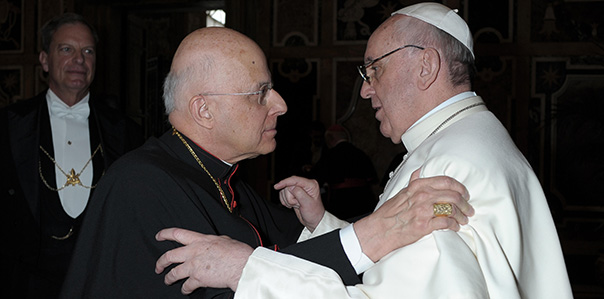 Staff Report
(This article originally appeared in the E-pistle Newsletter)
The Athenaeum of Ohio's series of events commemorating the Year of Faith will continue with a visit by Cardinal Francis E. George, Archbishop of Chicago, who will address "Human Rights and Religious Freedom" when he presents the Gardner Lecture in Moral Theology at 7:30 p.m., April 24 in the Bartlett Pastoral Center.
The public is welcome.
Cardinal George is the first Chicago native to become Archbishop of Chicago. He became the 13th Ordinary for Chicago since its establishment as a diocese. Cardinal George is a member of the Missionary Oblates of Mary Immaculate and is the sixth Cardinal to lead the  2.3 million member Archdiocese of Chicago. Installed in May 1997, he arrived by way of the west coast, where he had spent less than a year as Archbishop of Portland, Oregon, and five years as Bishop of Yakima, Washington.
He has assumed a prominent position among U.S. bishops, serving as the President of the United States Conference of Catholic Bishops from 2007 to 2010. His pastoral leadership encompasses international and national audiences.
The Roman Catholic Archdiocese of Chicago was established as a diocese in 1843 and as an archdiocese in 1880. It serves more than 2.3 million Catholics in Cook and Lake counties in Northeastern Illinois, a geographic area of 1,411 square miles.
The archdiocese is divided into six vicariates and 31 deaneries.