Care for Creation Nature & Society's Relationship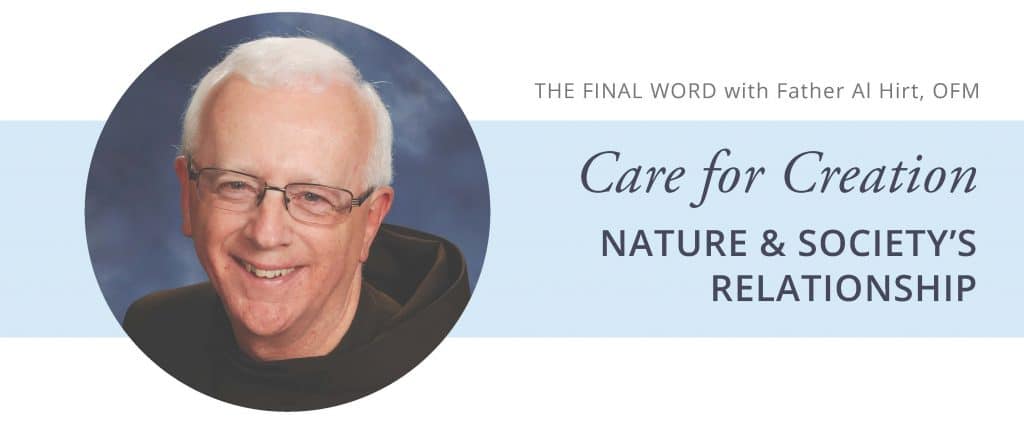 Some years ago, St. Pope John Paul II named St. Francis of Assisi the patron of ecology, which inspired the Franciscans to add "Care for Creation" to our commissions of peace and justice. It is also a great reminder that our gardens' St. Francis statues are a sign of this saint calling us to environmental awareness.
Pope Francis' encyclical, Laudato Si, has inspired and challenged people around the world to look closer at the relationships between humans and all other life forms with whom we share this planet.
Some years ago, members of St. Monica-St. George Parish took particular interest in the roles our church and home gardens can play in caring for creation. I clearly remember an environmentalist's presentation showing a beautifully landscaped yard. Then she showed a picture of how that lawn looked to birds – it was nothing but a brown, barren wasteland. None of the shrubs or other plantings was native to this part of Ohio, so there was no possible nesting or feeding spot. When we re-landscaped a garden along the church, we made sure that everything planted was attractive to bees and bugs and birds and butterflies! And it was also attractive to us human beings. We can work together.
Pope Francis helped us see that the earth is "Our Common Home," writing in Laudato Si: "Ecology studies the relationship between living organisms and the environment in which they develop. This necessarily entails reflection and debate about the conditions required for the life and survival of society, and the honesty needed to question certain models of development, production and consumption. It cannot be emphasized enough how everything is interconnected… Just as different aspects of the planet – physical, chemical and biological – are interrelated, so, too, living species are part of a network which we will never fully explore and understand."
In the next paragraph he writes: "When we speak of the 'environment,' what we really mean is a relationship existing between nature and the society which lives in it. Nature cannot be regarded as something separate from ourselves or a mere setting in which we live."
Practically speaking, people can take small steps to live in better relationships with all the species that surround us. If you are thinking of doing something different in your yard, consult landscapers who know which trees, shrubs and flowers naturally grow in our area. Besides being helpful to bugs, bees, insects and birds, these plants require less care because they are naturally adjusted to our part of the planet. We need to pay attention to the fact that we need the bees to pollinate and we want to help endangered species of birds and butterflies. Can one yard make a difference? Yes!
I currently live in Over-the-Rhine where our "yard" is a parking lot! Not having much opportunity to plant a garden or compost, my relationship to the natural world is somewhat limited, but wherever we live, we are encouraged to live in harmony with all the life that populates our part of the planet.
Father Al Hirt a Franciscan friar of St. John the Baptist (SJB) Province, is currently pastor of St. Francis Seraph Parish in Cincinnati's Over-the-Rhine. He previously served at St. Monica-St. George Parish Newman Center, where, during his tenure as pastor, the Clifton faith community became the first in the Archdiocese of Cincinnati to use solar power for lighting parish facilities. This developed from a pilot project for Catholic Climate Covenant, an effort that sprang from Pope Francis' encyclical, Laudato Si
This article appeared in the April 2022 edition of The Catholic Telegraph Magazine. For your complimentary subscription, click here