Making Catholic Memories: St. Catherine of Sienna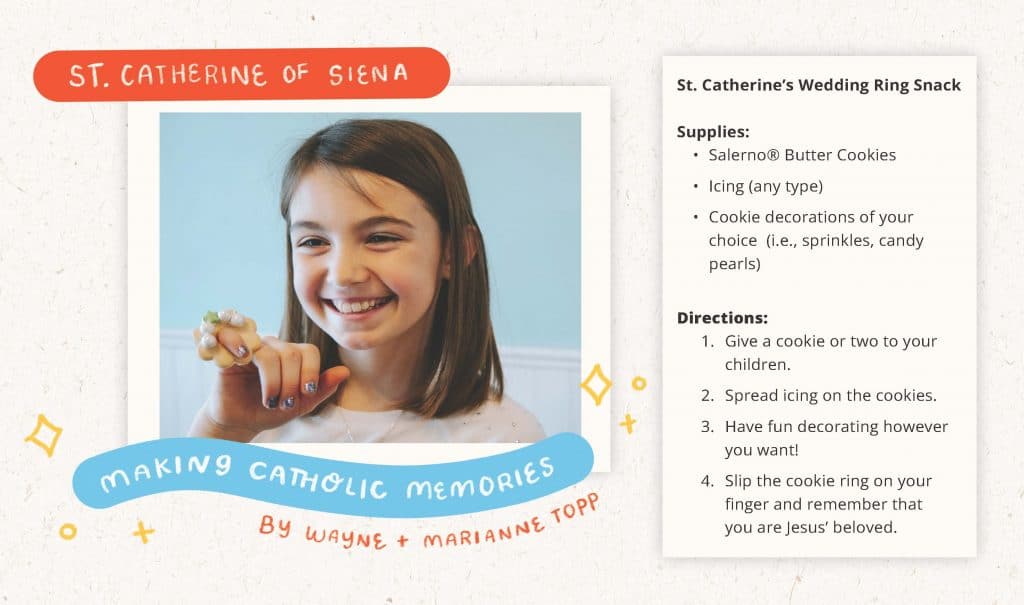 Have you ever spent time thinking about your wedding ring? The deep meaning behind that circular band is so profound that, on the day we receive it, we are changed forever. We become one with the person from whom we received it, and through our marriage, we become witnesses of the deep, abiding love Christ has for His Church. St. Catherine of Siena, whose feast we celebrate on April 29, once received a wedding band from Jesus Himself!
In 1347, Catherine Benincasa was a twin born in the city of Siena, Italy, the 25th child of Jacapo and Lapa. Her family lived in relative comfort, though they experienced great loss, as only 13 children lived to adulthood.
From a very young age, Catherine was deeply devoted in her faith. At age 5, she climbed the house steps on her knees while praying a "Hail Mary" on each step. At age 6, she experienced her first mystical vision of Jesus giving her a special blessing, after which Catherine began an intense prayer life in her own personal "chapel" room provided by her family. Then, at age 7, she made a private vow to give herself entirely to Jesus as His spouse.
However, Catherine was expected to marry, and her family arranged for her to marry her late sister's husband, but she had another mystical experience in which Jesus came to her dressed as a bridegroom. He took her gently by the right hand, and placed a splendid wedding band on her left, reportedly with a gem surrounded by four pearls. It remained on her finger, though no one else could see it.
After relaying this experience to her family, her parents allowed her to live her promise to Jesus. She became a Third Order Dominican (a lay member of the Dominican order) and, through her union with Jesus, she received the stigmata of the crown of thorns, the nails in her wrists and the spear in her side, though these marks were not visible to anyone else.
Although she had no formal education, Catherine was one of the greatest theologians in the Church's history. She died at 33, having spent her life in service to the Church and to the poor in her beloved city. Centuries later she was recognized by Pope Paul VI as a Doctor of the Church because of her brilliant writings.
St. Catherine of Siena dedicated her life entirely to knowing Jesus as a real flesh and blood person who could truly love each of us powerfully and individually. As parents, let us raise our children to know, as did St. Catherine of Siena, that the Lord Jesus wants us to be His and to return His love unconditionally.
This article appeared in the April 2022 edition of The Catholic Telegraph Magazine. For your complimentary subscription, click here