Carroll High School celebrates 50 years of education and faith
March 8, 2012
By Eileen Connelly, OSU
DAYTON — Since the doors to Carroll High School in Dayton were first opened to students on Sept. 6, 1961, the school has maintained a tradition of deep faith and excellence in Catholic education.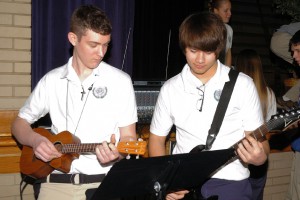 The 2011-12 school year has offered many opportunities to celebrate the 50th anniversary of the co-educational high school named for Archbishop John Carroll, the first bishop and subsequently first archbishop of the United States. The doors of Carroll High School opened to students for the first time on Sept. 6, 1961, under the leadership of Father Victor Ries as principal. Three hundred and seventy six students filled the school cafeteria to hear a welcome address by Father Ries and be assigned to one of 13 homerooms. The students had previously chosen  "The Patriots" as their nickname and red, white and blue as the school colors.  Members of various religious communities staffed the school, including the Sisters of Charity of Cincinnati, Oldenburg Franciscan Sisters, Sisters of Mercy, Sisters of Notre Dame de Namur, Sisters of Notre Dame of Covington and the Sisters of the Precious Blood. Archdiocesan and Precious Blood priests were also appointed to the faculty. Lay teachers completed the necessary faculty.
The 1960s was a decade of many "firsts" for Carroll — awards assemblies, student council elections, the induction of National Honor Society members, publication of  the Torch, the school newspaper, the official ringing of the Victory bell on May 24, 1966, for a varsity athletic victory and the gradual move toward coed classes.
The 1970s brought the dedication of Patriot stadium, additions to the original school building and the first renovation of Carroll's chapel. In the 80s, the Carroll community enjoyed a special Thanksgiving liturgy with then-Archbishop Joseph Bernardin. During the 1980-82 season, the soccer team brought Carroll its first state championship, and the 1984-84 Marching Patriot Band members were the Grand Champions of the Marching Bands of America national finals and represented Dayton and the Carroll community in the 1984 Orange Bowl Parade.
By the 1990s, various projects were untaken to meet the needs of Carroll's growing student population. These included the updating and expansion of the school's computer rooms, a new walkway and landscaping at the main entrance, chapel renovations, the addition of a new wrestling room, weightlifting facility and industrial arts room, and physical plant and parking improvements.
In the past decade expansion of technology has continued at Carroll with additional labs and work stations, the installation of a wireless computer network, laptops computers for all faculty members and the completion of the first phase of a building addition.  In addition, a Marian shrine was built on campus with students assuming responsibility for any needed landscaping and grounds work.
Since its founding, more than 11,000 men and women have take their place as Christian leaders in society after graduating from Carroll. "Catholic schools provide a unique, formative experience, something that will affect the students' lives, fashioned by their own self-reflection and understanding. It is the type of experience that happens here at Carroll," says Matthew Sableski, Carroll principal, in his welcome on the school's website. "We are a caring community that exposes students to new things that enrich life and stimulate the mind. Often these things are intangible, but they are what affect our students most deeply."
Joel and Amanda Rieman, members of Emmanuel Parish in Dayton, can attest to the strong educational foundation and spiritual formation their children have received at Carroll. Their son, Graeme, who graduated from Carroll in 2011, was a member of the school's academic team, Latin Club, Pats for Life and National Honor Society. He also played four years of football, lettering twice, and intramural basketball. He rounded out his career at Carroll as class valedictorian and now attends the University of Dallas. Another son, Jonah, is a current junior at Carroll, and is also excelling in academics and athletics. The Riemans say their three younger children will attend Carroll too.
According to Amanda Rieman, "We believe Carroll offers opportunities for faith, growth and service, the best range of academic courses, a faculty who truly cares about the students and a contagious school spirit. Every child can excel at Carroll High School."
Christopher Pitstick, who graduated in 2005 spoke highly of his alma mater, saying,  "Carroll High School is a treasure of the Dayton area. All the teachers that fought for me, that went above and beyond whatever the call of duty of the day was, have made my life far better. In the hallowed halls of the building are classrooms that are teaching graduate-school-level material, classrooms that inspire students to reach for more, teachers who are berating students not because they did poorly, but because they know they can do better."
Approximately 500 people joined in Carroll's 50th anniversary weekend celebration Oct 13-16 that included the dedication of the Booster Plaza, which honors the school's founding booster parent volunteers, a gala dinner at the Presidential Banquet Center in Kettering, and a special Mass and open house. Former principals Fathers Stanley Neiheisel and Robert Obermeyer, former teacher Father Len Wenke, as well as Carroll graduates Fathers Jim Manning '66, Mike Holloran'73, and Scott Wright '02 served as celebrants.
In addition, a commemorative 50th anniversary history book was published. The school community has also undertaken the "50 for 50" endeavor, led by senior Megan Woolf and other Carroll Girl Scouts. Its goal has been for students, their families, alumni and friends to pursue 50 service projects between June 11, 2011, and June 1, 2012. At press time, 34 projects had been completed, including Patriot Pride Day, a school-wide day of service, the baking of dozens of cookies for Kairos prison ministry, and a Christmas party and distribution of gifts to nearly 300 children.
Archbishop Dennis M. Schnurr joined the Carroll community for a special anniversary Mass Jan. 26. In his homily, Archbishop Schnurr offered his congratulations to those gathered and expressed his gratitude for being invited to join in the celebration. "The archdiocese rejoices with all of you — students, teachers, staff, board members, benefactors, alums and everybody who had a part in the life of this institution," he said. "Congratulations and best wishes."
The archbishop offered special thanks to the faculty and staff of Carroll, both past and present, "for all you have done and continue to do to help our students open their hearts and minds to the teaching of Jesus, for all you have done and continue to instill and nurture the faith.
For more about Carroll High School's 50th anniversary, visit http://www.thecatholictelegraph.com/