Cathedral Basilica of St. Peter in Chains Celebrates 175 Years and Blesses Insignia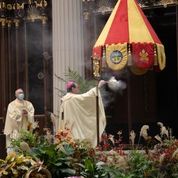 by Eileen Connelly, OSU
For its 175-year history, the Cathedral of St. Peter in Chains in Downtown Cincinnati has stood as a testament to the faith of Catholics in the archdiocese. The impressive Greek Revival structure, located at the intersection of Eighth and Plum Streets, is dedicated to God in honor of the imprisonment and liberation of St. Peter.
That momentous anniversary was celebrated at the 11 a.m. Mass on Saturday, Nov. 7. Archbishop Dennis M. Schnurr celebrated the Mass with priests and deacons from across western and southwestern Ohio. The occasion was also an opportunity to bless the recently-appointed minor basilica's official insignia.
There are three traditional symbols of the basilica: the Crossed Keys (the "keys of the Kingdom of Heaven" entrusted to St. Peter); the Tintinnabulum (the three bells that signify the church's link to the pope); and the Ombrellino (the umbrella that signifies the structure's close ties with the Holy See). The Ombrellino's silk canopy is designed with stripes of red and gold, which are the traditional papal colors. It will remain partially opened. The Ombrellino would only be fully opened in the event of a visit from the Holy Father.
The cathedral's recent designation as a Minor Basilica, the first in the Archdiocese of Cincinnati, is both an honor for the region and reason for the local faithful to celebrate, said Father Jan Schmidt, rector since 2017. "It's the quality of the cathedral's structure, the absolute beauty of its architecture, and the biblical symbolism throughout that make it very important and very special for the archdiocese and in the American Catholic scene," he said.
It's important to understand the difference between a cathedral and a basilica, Father Schmidt noted. A cathedral is the home church for the bishop or archbishop of a Catholic diocese, and takes its name from the Latin word "cathedra," meaning "seat" or "chair." A basilica is an important church building designated by the pope for its special spiritual, architectural and/or historical significance. It shares a special relationship with the See of Rome and with the Holy Father. A basilica is not necessarily a cathedral, although several are.
The cornerstone for St. Peter in Chains was laid on May 20, 1841, under the leadership of Bishop – later Archbishop – John Baptist Purcell. It was formally dedicated on Nov. 2, 1845. Its striking single spire, constructed of pure white limestone and soaring 220 feet above street level, was the tallest man-made structure in the city for many decades. The cathedral's interior is dominated by a large mosaic portraying three scriptural events from the life of St. Peter. It's eclectic architectural and design style also incorporates artistic inspiration from diverse sources, including Art Deco, Ancient Greek, Eastern Christian and early Roman Christian basilica architecture. A major renovation of the structure, overseen by Edward Schulte, was completed in 1957.
Visitors to Cincinnati, who may expect a Gothic-style cathedral, are surprised to see a structure that resembles a government building.
"Bishop Purcell was very insightful about that," Father Schmidt explained. "Amid the anti- Catholicism of the time, he wanted the cathedral to be a statement that the Catholic Church was a permanent institution on American soil and that Catholics were just as American as the Protestant population."