Catholic at Home: Carrying the Crosses of Others


I recently received real help in the thick of a personal difficulty. The support came from a dear friend, who happily gave of herself so I could experience restoration. This kind of help calls for self-sacrifice and encountering real pain, but ultimately yields a deeper love and understanding for the other person.
In order to truly help someone else bear their difficulties, we have to get close to their suffering. Consider Simon of Cyrene.
Simon was a bystander, someone in the crowd watching Jesus on the road to Calvary. Forced to assist Jesus by the Roman soldiers, the only way for Simon to help was to be in close proximity to Him. Trudging on the road and hefting the cross, he could smell the sweat, dirt and blood on the Lord. Simon could hear His labored breathing amid the crowd's cries, all while the heavy load and midday sun compounded the difficulty. Though he couldn't fully relieve Jesus of His suffering, Simon made it more bearable. With Simon's help, Christ went on.
GET CLOSE TO SUFFERING

We know of trials and pain across the globe, but we don't have to look so far to witness and help with another's suffering. In this imperfect world, everyone has some difficulty to endure, including those under our own roofs.
My 11-year-old son has Autism and Tourette's Syndrome. The world holds challenging experiences for him, full of nuances he struggles to understand, and people who struggle to understand him. I can't take his crosses away, but I can help carry them by adjusting how I communicate with him and interpret the world for him.
Like most of us, my husband endures challenges in his career and parenthood. Though I have a front row seat to his ups and downs, he shoulders much of the stress on his own. The way out of his challenges is through them, however, so I buoy his heart through hot cups of coffee, and, when he asks, an ear to hear the things that weigh on him.
In His infinite wisdom, God blessed you with each member of your family to accompany you on your path to heaven. Likewise, He chose you to walk with them and be a channel of His love and mercy in their lives, to bear their suffering with them. I can't take away my family's difficulties, but, like Simon of Cyrene, I can draw near to them and lighten their loads.
AND WHAT'S THE RESULT?
In my own life, when others have reached out to me in empathy and care, not only do I feel upheld, I feel seen. I feel considered and loved. My friend recently volunteered to take care of my children during a challenging time. While they were in her care, I was able to go to spiritual direction. When I picked them up, there was a hot, homemade dinner waiting on me. The relief I felt from my friend's support gave me strength, and I knew the Lord was loving me through her.
But what if someone suffering doesn't want help? After all it's their prerogative to make themselves vulnerable enough to accept support. Though it may cause some heartache to hold ourselves back when the ones we love don't want our help, the very best love we can offer is prayer.
Years ago I read that "to trust in God is one's highest wisdom and deepest consolation." If we entrust ourselves and our families to the love and mercy of Jesus, they will be in the greatest hands possible. To do so is to imitate Christ, Whose love is not forceful, but powerful in its gentleness.
Let's pray we can do our best impressions of Simon of Cyrene and help others in a way that is life-giving and supportive.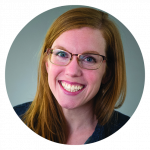 Katie Sciba is a national speaker and Catholic Press Award- winning columnist. Katie and her husband, Andrew, have been married for 11 years and are blessed with six children.
This article appeared in the April 2021 edition of The Catholic Telegraph Magazine. For your complimentary subscription, click here.