Catholic Charities Pleased by Halt to Refugee Travel Ban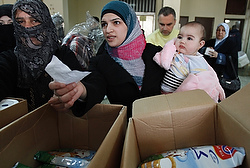 CINCINNATI, March 16, 2017 – Catholic Charities Southwestern Ohio is encouraged by yesterday's decision by U.S. District Court Judge Derrick Watson to freeze the travel ban on refugees seeking safety in America.
"America has a long tradition of being a beacon of hope for those fleeing war and persecution and pursuing a new start for their families," Ted Bergh, CEO of Catholic Charities, said. "We are facing the world's largest humanitarian crisis since World War II. It's important to understand that less than a fraction of one percent of refugees is granted the opportunity to resettle in countries like the United States. Admitted refugees are the most thoroughly screened people entering our country. It's a core belief to welcome the most vulnerable of displaced people. "
Catholic Charities Southwestern Ohio serves refugees who come to the United States through the U.S. Department of State and U.S. Conference of Catholic Bishops. All refugees come from extreme poverty, violence, or religious and political persecution in their homelands and seek a better life for their families. Catholic Charities resettled 333 refugees in 2016, more than a 50% increase from the prior year. The agency expected to resettle 450 refugees this year, largely from the Democratic Republic of the Congo and Bhutan. However, the new refugee travel bans dramatically slowed scheduled arrivals.
"We respect the human dignity of all people who are made in the image and likeness of God," Bergh said. "Welcoming refugees and immigrants is part of the Catholic Social Teaching and reflects the Biblical tradition to welcome the stranger that is embraced by many faiths. We encourage everyone to join us in welcoming and loving our newest neighbors."
To get involved, visit http://www.ccswoh.org today.
About Catholic Charities Southwestern Ohio
Catholic Charities Southwestern Ohio, a United Way Agency Partner, has been serving the most vulnerable in our community for 100 years. Our programs serve the poor, protect the vulnerable and welcome the stranger regardless of their religious background or country of origin. Our mission to enlighten, serve and empower is enabled by the generosity of donors and volunteers. Together, we serve and bring hope more than 120,000 people last year.