Catholic Charities SWO served 82,000 in need in 2014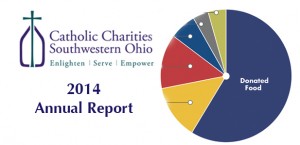 Report
Catholic Charities Southwestern Ohio served 82,000 people in 2014 according its annual report released today.
For 100 the years this Archdiocese of Cincinnati-agency has to served the poor, protected the vulnerable and welcomed immigrants and refugees across 11 counties with the support of about 2,500 volunteers. Key highlights from the report include:
*About 4,200 people received mental health counseling and on average 80 percent reported progress by the end of the fourth counseling session.
*More than 240 seniors protected the vulnerable as Foster Grandparents for at-risk youth, Senior Companions for housebound seniors and as community volunteers. Eighty-seven percent of housebound seniors reported an increase in social support.
*Nearly 2,000 parents and children participated in family-focused programs designed to improve emotional and behavioral skills while strengthening relationships. In fact, 98 percent of those surveyed reported stronger parent-child relationships following parenting education classes.
*More than 50 children attended the Su Casa Hispanic Center's summer camp, and 91 percent of adult students passed English for Speakers of Other Languages final exam during the first half of the year.
*More than 4.7 million meals were distributed to 90 member agencies of the Second Harvest Food Bank.
*134 refugees – families, elderly and children – were resettled last year. Sixty nine secured employment after job training.
"We have a long legacy of serving others that we will continue as we prepare for our centennial anniversary," Ted Bergh, CEO of Catholic Charities, said. Since its inception, the agency has been a United Way Partner.
Posted July 1, 2015