Throwback Thursday: 'True Freedom depends on God'

Staff Report
Saturday will mark the 239th birthday of the United States of America. The nation, which in its founding document makes multiple references to man's creator, is also home to nearly 70 million Catholics.
Recent legislation and court decisions have left some Catholics wondering about the state of religious freedom in the U.S. With that in mind, the Throwback Thursday staff stumbled upon the attached image with an ever-important text reminder on top.
"True Freedom depends on God."
In the image a man rings a bell labeled "liberty." The text beneath reads:
"Independence day of 1943 will find Americans still in proud possession of the spirit of freedom whose birth in America was proclaimed by the ringing of the Liberty Bell in 1776. This spirit will long remain in America as long as Americans understand that independence from oppression can be assured only by dependence upon God."
The image appeared in the July 2, 1943 edition of The Catholic Telegraph-Register.
The image displayed on the home page, seen also below, features the Liberty Bell clip at right as well as other clippings from early July editions of The Catholic Telegraph throughout the years. The three accompanying images can be seen below.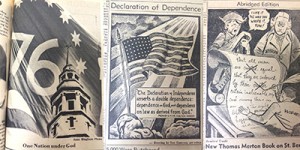 Welcome to The Catholic Telegraph's edition of Throwback Thursday. Throwback Thursday is a weekly online activity wherein users of social media share an old photo or anecdote about times gone by.We use Throwback Thursday to highlight the history of the Archdiocese of Cincinnati, and our publication.
Recent Throwback Thursdays
Fortnight for Freedom
Orphan's best friend
Newspaper production then and now
Summer fun with a nun
Priests reflect on first year
Every bishop was ordained a priest first
Posted July 2, 2015