Catholic Schools Transforming Hearts & Souls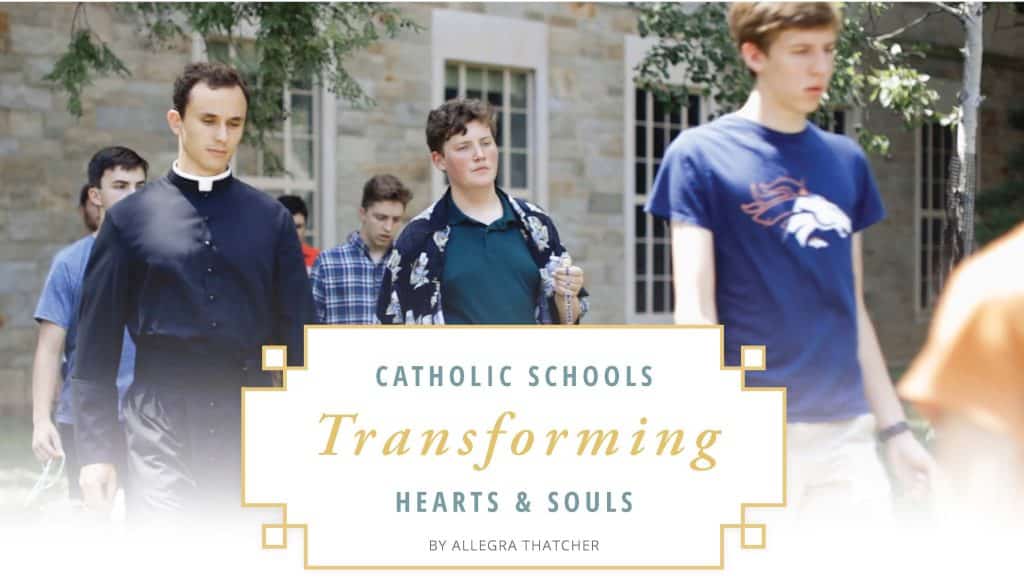 JACOB SCHMIESING
"I was six years old when I first wrote, 'I want to be a priest,' in the same sentence as 'I want to be a fighter pilot or a dump truck driver,'" said II Theology seminarian Jacob Schmiesing.
It wasn't until years later, after experiencing the liturgy and sacraments at Lehman Catholic High School in Sidney, that Schmiesing realized the priestly vocation might actually be his. He was
home-schooled before attending Lehman.
"My time at Lehman definitely influenced a major range of my later activities: soccer, chemistry, priests, close friends … it set me up for the next several years in a positive way in every regard," he said. And it was chaplain Father Jim Riehle's daily presence that inspired his vocation.
"More so than anything else, it was seeing Father Riehle there, day in and day out, getting to know a diocesan priest on a personal level, and the example he set… He showed all the good sides of what a diocesan priest in a high school setting should be."
Schmiesing began praying the Liturgy of the Hours regularly in the school chapel from a book his grandparents gave him. It was there that he experienced consistent adoration of the Blessed Sacrament for the first time. "I was pretty aware at the time that it was a really good place to be, and the good things it was doing for me," he said.
During his senior year of high school, Father Riehl gifted Schmiesing the book To Save a Thousand Souls, which, paired with a visit to Bishop Simon Brute College Seminary in Indianapolis, solidified the priesthood as a real option for him.
He first detoured to Franciscan University in Steubenville where he earned a chemistry degree, pouring himself into his craft—and studying philosophy. He says he
"He was a tangible witness of faith meaning something to the point of the legitimacy of the truth—just by the passion he brought to the classroom each day."
learned valuable lessons and grew abundantly while there, returned to daily Liturgy of the Hours while studying abroad as a junior and determined shortly before graduation that God was calling him to discern priesthood at Mount St. Mary's Seminary.
TONY SANITATO
Tony Sanitato, a III Theology seminarian who will be ordained to the transitional diaconate in spring 2023, also found the path to priesthood through influence from his earlier education. He attended St. Ursula Villa from Kindergarten through eighth grade.
Some earliest memories of his faith center on altar serving during those school years and the joy he experienced at serving beside a priest. Similar to Schmiesing, he was inspired by his school chaplain's consistency.
"Altar serving is a fertile ground in which the Lord plants seeds," he said. "The Lord might give you many fond memories to look back on based on enjoying serving, especially if you're gifted with a priest that you see over the course of your time at the school."
Sanitato also attributes to a junior high religion teacher a consistent and "transformational" role in his path: "He was a tangible witness of faith meaning something to the point of the legitimacy of the truth—just by the passion he brought to the classroom each day."
This influenced Sanitato's perspective of his faith. He went on to attend St. Xavier High School, where a heart for service is key and the motto is "Be a man for others." "We reflected upon the faith challenging you to a way of life … it's not just an activity, and therefore the demands are going to be all the more that which affects your daily life," he said.
The camaraderie he experienced from the community of brothers set him up well for the seminary life of community prayer, study and recreation. He reflected on what a gift it is to currently have an abundance of prayer time and community life, which was tendered in his younger days and has now come full circle. Although Sanitato attended a public university for supply chain management and marketing, he eventually found a call to seminary and priesthood.
He described the interlocking between his two Catholic school experiences as a "gift from God."
This article appeared in the January 2023 edition of The Catholic Telegraph Magazine. For your complimentary subscription, click here.