Catholic Schools Week: Badin High School re-establishes affiliation with Sisters of Notre Dame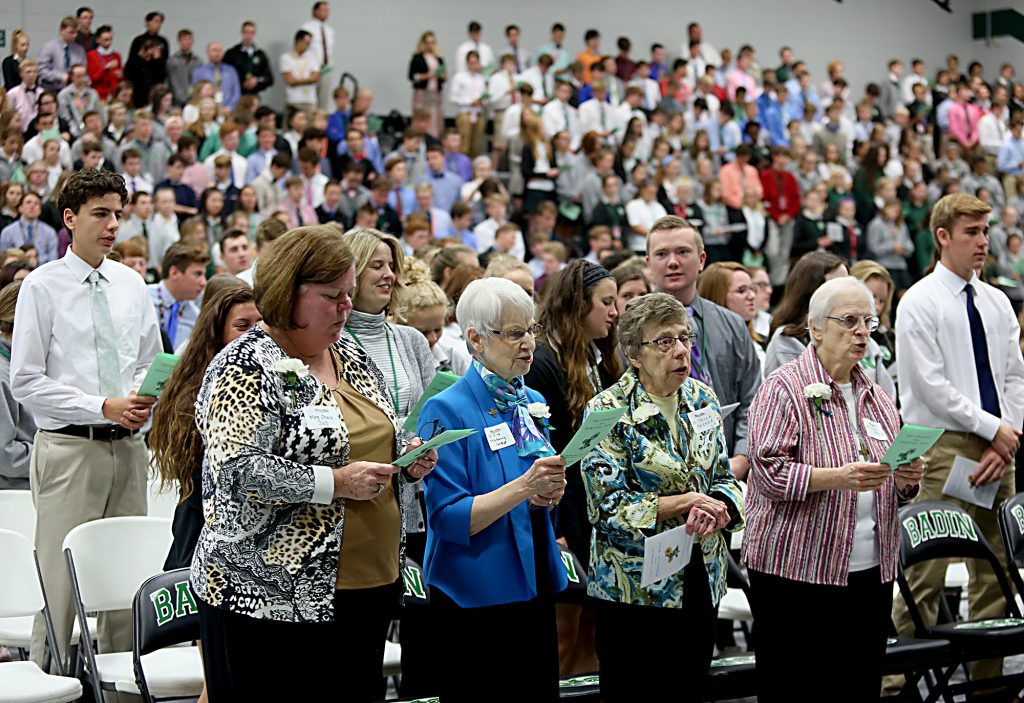 By Eileen Connelly, OSU
Badin High School's (BHS) annual Heritage Mass is a joyful opportunity for both current students and alumni to celebrate their school and share memories.
The 2017 liturgy, held Oct. 18, was accompanied by another significant event when the only Catholic high school in Butler County officially announced its re-affiliation with the Sisters of Notre Dame de Namur, which ran Notre Dame High School in Hamilton from 1886-1966.
"We are thrilled to reestablish our relationship with the Sisters of Notre Dame de Namur," said Kim Graham,  director of alumni relations at Badin. "The Sisters of Notre Dame have a rich history of education in Hamilton. Even though Notre Dame High closed in 1966, the sisters continued their ministry of teaching at Badin High School through the 1990s."
Notre Dame, an all-girls school, and Hamilton Catholic, all boys, closed following the 1965-66 school year. Their successor school, Stephen T. Badin High, opened in the fall of 1966 on New London Road in Hamilton and celebrated its 50th anniversary this past school year.
Father Ed Pratt, Badin's chaplain, celebrated the Mass, and afterwards, the sisters were front and center as the school signs official documents re-establishing this important affiliation.
"We have been talking about this for some time," said BHS Principal Brian Pendergest, giving credit to Graham, Father Pratt, and Gina Helms, the school's director of campus ministry, for bringing the arrangement to fruition.
"We have been celebrating the half-century legacy of Badin High for the past two years," Pendergest noted, "and what better time than now to reestablish our connection with the sisters"
"Our last Sister of Notre Dame, Sister Julia Marie Schutte, retired in 1994, but the spirit of Notre Dame and the Sisters continues to live on through today," Graham said. "It will be wonderful to have the sisters back at Badin and extend the tradition of excellence in education that is their hallmark."
"When the opportunity presented itself to continue this long history of expressing Notre Dame mission, values and spirituality in Hamilton, we were very interested," said Sister Carol Lichtenberg, SNDdeN provincial. "In recent years, the Sisters of Notre Dame de Namur have developed programs and hired staff to reach out to our sponsored and affiliated schools.  The intention is to provide support for these legacy schools to stay connected to our founding mission, values and spirituality. Many in Hamilton are very familiar with our foundress, St. Julie Billiart, since a parish now names her as patroness. The elementary school of the predecessor parishes were all founded and staffed by SNDdeNs for many years. Our aim is to share and express in our times as Julie did in hers, 'How good God is.'"
"This new relationship with Badin is really about the future, not just the past," said Sister Rita Sturwold. "Because Badin's board and administrators, and the Hamilton community recognize and value the contribution that the Sisters of Notre Dame de Namur made to the Catholic education of young people in Hamilton in several parish schools and at Notre Dame HS for girls, they want the current Badin students to be engaged in the Notre Dame charism and the Hallmarks of a Notre Dame Learning Community. They value the added depth this gives to their Catholic education in an archdiocesan school."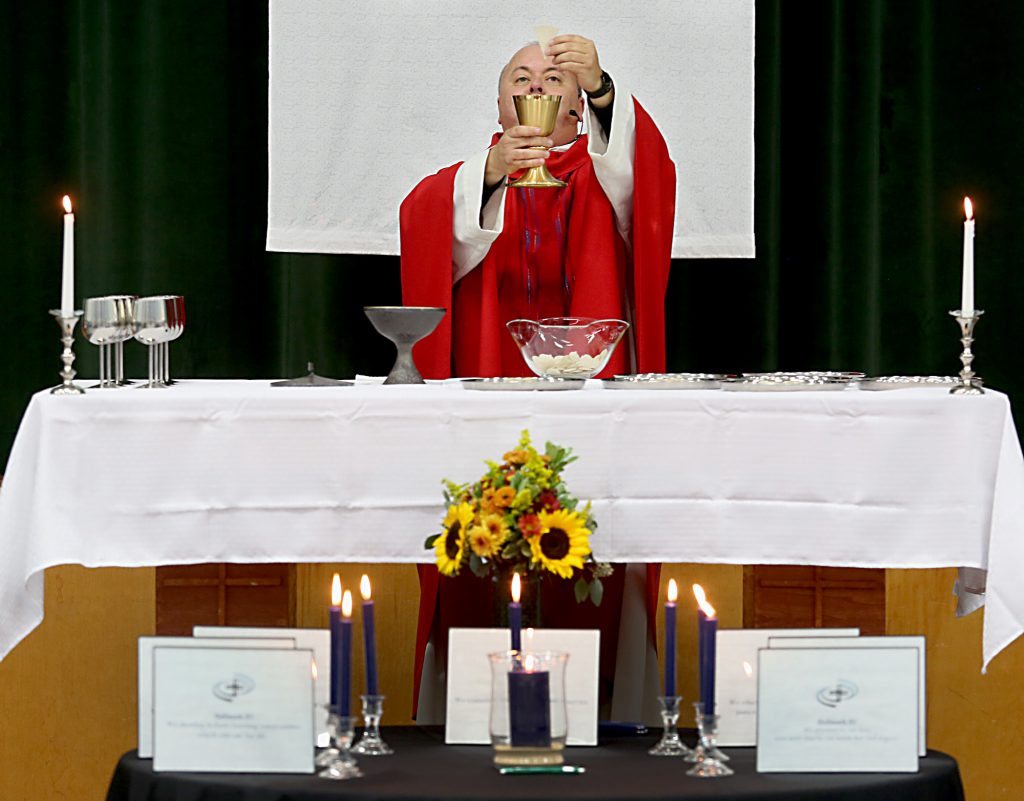 Meg Sharp, director of mission integration for the community's  Ohio Province, is continuing to meet with Helms for orientation to the mission and values of the sisters and the Hallmarks, or "essential characteristics, values and activities of a Notre Dame learning community," Sharp explained. (see sidebar) "They were developed by our California schools, introduced across the country beginning in 2010, and are now embraced by all of our schools.
"My primary focus in working with all of our schools is to help preserve and strengthen the legacy of St. Julie Billiart and the educational values and principles that are basic to the mission of the Sisters of Notre Dame de Namur," Sharp added, noting that she and Helms were scheduled to meet at Mount Notre Dame in January to visit the sisters' archives. Helms will also attend the Ohio Regional Hallmarks Retreat in April with other Ohio school representatives. On Feb. 16th, Sharp will facilitate a faculty/staff in-service about the mission, charism and spirituality of St. Julie and the Sisters of Notre Dame de Namur.
In addition, Sister Claire Foley, a Hamilton native and graduate of Notre Dame High School, is serving as the current liaison between her fellow alumnae and Badin. She said the alums continue to meet and support Badin by raising money for scholarships and in other ways, and share a deep love for both schools.
Graham was pleased with the opportunity to invite graduates back to share in this important milestone.
"Each year at the Heritage Mass, we reflect on our rich history and share it with our current students so that they understand what it truly means to be a part of the Badin family," she said. "This year, the Heritage Mass offered a perfect time to sign the official documents reestablishing our affiliation with the Sisters of Notre Dame de Namur. We're very excited for this opportunity."
Hallmarks of a Notre Dame school:
•   We proclaim by our lives even more than by our words that God is good.
•   We honor the dignity and sacredness of each person.
•   We educate for and act on behalf of justice and peace in the world.
•   We commit ourselves to community service.
•   We embrace the gift of diversity.
•   We create community among those with whom we work and with those we serve.
•   We develop holistic learning communities which educate for life.